Solange Knowles
By Carles on 14 Mar 2011
Solange Knowles is on a neverending quest to find her niche in the indiesphere. She always collabs with the Dirty Projectors like the one time she sang on stage with them and tried to 'out-sing' the 3 keut altbaguettes in their band [link]. She also sings with Of Montreal even though they are like 0% relevant. Anyways, she wrote some new song with Chris Taylor of Grizzly Bear and George Lewis Jr. of Twin Shadow [SPONSORED BY COCA COLA] in order to let ppl know that Africans don't have water. I guess it is always good to get a free MP3, but they are sorta killing my Western world blogosphere vibe by letting me know that some ppl can't take a poop and flush the toilet with several gallons of water.
Disco Naïveté points to a video of a song resulting from a collaboration between Grizzly Bear's Chris Taylor, Solange Knowles, and Twin Shadow called "Kenya". The three artists teamed up to record the song for the Coca Cola Foundation's Replenish Africa Initiative (or RAIN for short), which "brings together business, local government, NGOs and committed individuals to tackle the problem of access to water and sanitation in Africa," according to their website.
"To me, water is something that comes in a bottle or else it might as well be from the Third World."

Here is 'the official music video.' The song has a bunch of Twin Shadowy sounding guitars, classic Chris Taylor 'production techniques', and most importantly, tons of Solange Knowles trying 2 sing like she's a member of the Dirty Projectors.
I am generally a fan of Twin Shadow + Chris Taylor production projects, but Solange Knowles kinda kills the vibe for me... I'm not sure if I'll ever accept her as an indie artist, even if she hired a team of producers from the most relevant indie buzzbands. The track is sorta ambient, but I don't know if African people would like it... Like it might be 'too progressive' for them.
Do yall <3 'the spirit of collaboration'?

Does this song 'crush it'?
Do yall h8 Solange Knowles 4 trying to exploit the indiesphere?
Is Chris Taylor the keutest member of Grizzly Bear?
Do u think Twin Shadow shoulda talked more in the 'about' video?
What's the deal with Africa? Are the living in poverty without standard human necessities, or do they just have a simple way of life?


Do u think they shoulda raised awareness for Africa not having 3G wireless networks/snark blogs + alt content farm networks?
Can u ride chillwaves without water?
Is Stillness still the move?
Do u think Coca Cola should send Africa a bunch of soda so that they think that Coke = water? [via Dasani]
Was it unchill of them to release this MP3 when they should be focusing on Japan?
Alternative Celebrity, DJ
Solange Knowles is Beyonce's little sister. She is trying 2 appeal to alt audiences.
Read more>>>>
Alternative Celebrity
Chris Taylor is the bass player from Grizzly Bear and an indie "super-producer."
Read more>>>>
Buzzband
Twin Shadow is the 2k10 buzzband buzz project of George Lewis Jr. His hit album FORGET is 'highly bloggable.'
Read more>>>>
By Carles on 11 Oct 2010

Kanye West is a highly controversial rapper who does artsy fartsy things and every1 creams their pants abt it, saying that he is the next PDiddy or something. Nnot sure if I believe them. Feel like there can only be one Puff Daddy.
Anyways, Kanye loves women, and probably 'makes love' 2 one every night. I'll never forget the time he made love to that curvaceous woman named "Amber Rose" [link]. Anyways, just saw Kanye West hanging out with some female. If I had to guess, would say she is Solange Knowles, the alternative sister of the popular rapper Beyonce Knowles.
It seems like they make a good couple, like they are all being blipsters, chilling around town in modern fashion, writing buzz mp3s, trying to appeal to mainstream audiences and.
Hope they do a sick duet, invite some indie singers on stage to riff on guitar, then get a 9.8 from Pitchfork.


Will this hip hop royalty couple work out?
Are they the new 'Jay-Z and Beyonce'?
can they make more money than Jay-Z and Beyonce if they get a 10.0 of Pitchforks?
Does Kanye West deserve 2 be married in2 hip hop royalty?
Will this be 'Mr. Right' 4 Solange Knowles?
WTF is 'canoodling'?
By Carles on 14 Jun 2010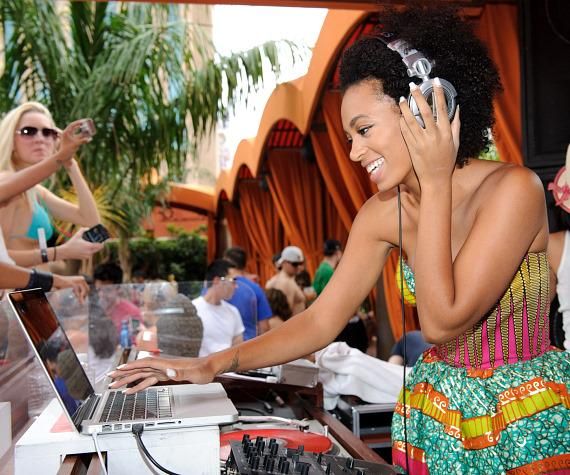 From what I understand, resorts and casinos in Las Vegas have 'massive budgets' that they spend on getting famous / moderately famous people to come to their resort to create a marketable meme and 'pose' by their pool/in front of some sign that showcases their brand. Basically, tons of DJs and B-rate celebs have 'careers'/cash flow based on these types of arrangements. I am not sure if it is 'legitimate press' or if every1 just sees it as 'easy money' + 'a free vacation' where you just pretend to DJ and a bunch of drunk mainstreamers 'party hard.'
Feel confused seeing her poolside, as opposed to in a super relevant club, performing live with a buzzband.
Wonder if she prefers performing those creepy ethnic bros who are 'in town on business/at a technology convention' or if she misses jamming with the Dirty Projectors, of Montreal, and miscellaneous indie bands.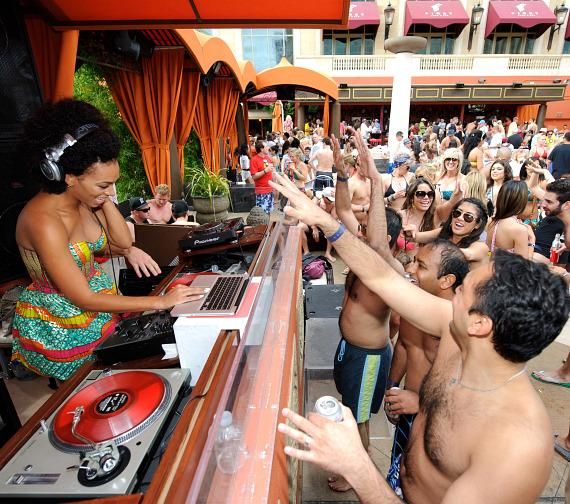 Sorta feel like she 'turned her back' on the indie community.
Was thinking that she was vibing hard on indie wave and chillwave, thinking she 'really wanted 2 be a part of our world', but now I am scared, like she is just trying to 'scam us' for press.
Confused.
Sorta just wish indie would go streamstream and we could jam out to waves of chill while we dance nude in Las Vegas.
Worried that Solange 'isn't in it 4 the right reasons.' Just want some mainstream artists who love indie 4 the sake of indie, and aren't just 'using us' because we have a great internet marketing infrastructure.
Does n e 1 know what Solange's deal is?
Is she a chill bro, or is she 'using' the indiesphere?
Do u wish u were a DJ who got mainstream gigs and made mad bank?
Is Solange Knowles the next relevant DJ?
Alternative Celebrity, DJ
Solange Knowles is Beyonce's little sister. She is trying 2 appeal to alt audiences.
Read more>>>>
By Carles on 13 May 2010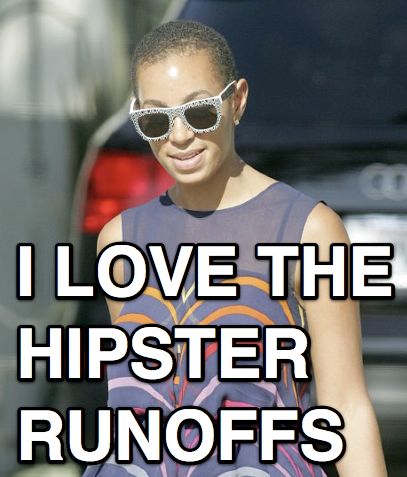 After several posts questioning the indie credibility of Solange Knowles [link 1] [link 2], and other posts documenting Jay-Z + Beyonce Knowles attending coachella/other indie concerts [link 1] [link 2], Solange Knowles has found out about the popular mainstream alt indie mp3 music culture blog HIPSTER RUNOFF. She has 'come under intense scrutiny' by many indie web journalists, claiming that she is 'faking' her affinity towards indie artists just to exploit a niche market that wants mainstream approval.
Solange recently tweeted about how she found a new bloggyspot called hipster runoff, and it is 'mad legit' / full of 'lols.' She claims that Carles is one of the most important music journalists of the modern indie alt era, and possibly shared the link with Beyonce [via iPhone Messenger].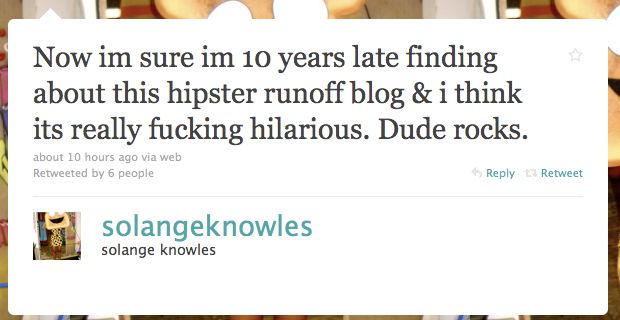 Beyonce and Solange shared many lols abt the blog, then reflected on hipster culture.
In addition, popular post-'it girl' Peaches Geldof was like 'u've never heard of the hipster runsoff.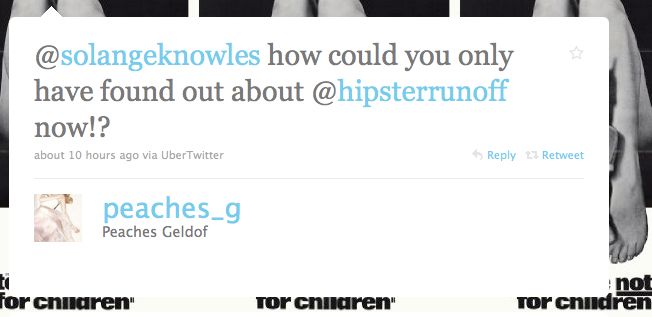 (really not sure who this girl is, but I heard she is 'big in Britain')
Then Solange was all like 'hells naw', and used the term 'blipster' (tm), which was invented by Carles.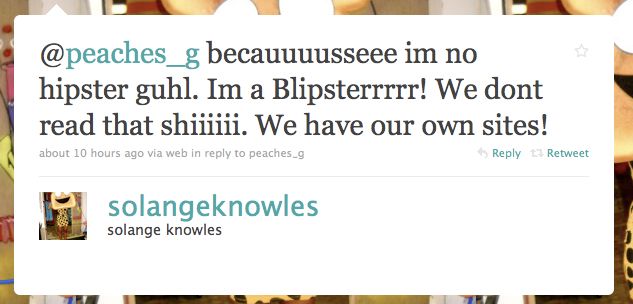 Do blipsters have their own sites, or do they still just hang out on myspace [via minorities]?
Wonder if this means that HIPSTER RUNOFF has 'crossed over'?
Is Carles 'in bed' with alternative celebrities / Solange Knowles?
Will HRO 'be compromised' in this new era of 'fame' + 'critical acclaim' from alt celebs?
Is the blogosphere just the process of websites 'cozying up' to artists for exclusives?
Should blogs be 'bros' with the content that they cover?
Once a blog is 'bros' with an artist, are they allowed to 'pan' them any more, or has this sort of guilt enabled many bands to have a career that lasted longer than it should have?
Which artists are 'in bed' with which blogs?
Do artists get higher scores from Pitchfork if they 'bro down' with the staff, and give them solid content?
Does Solange Knowles have 'more indie cred' because she is into the H-Ro, or is she 'effing mainstream' because HRO has 'gone down the shitter' over the past year?
Alternative Celebrity, DJ
Solange Knowles is Beyonce's little sister. She is trying 2 appeal to alt audiences.
Read more>>>>
By Carles on 22 Apr 2010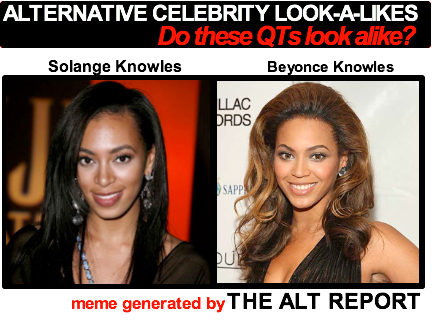 Have u ever noticed how alt hipster blipster songstress Solange Knowles looks a lot like popular mainstream pop hit singer Beyonce Knowles?
Do u know if they are related?
do u know which 1 has a better voice that can be utilized in an indie band?
Which 1 is more authentic?
Alternative Celebrity Look Alikes compares the personal brands of alternative celebrities with other famous and microfamous humans. This ALT REPORT gimmick was inspired by the mainstream version of this meme at totallylookslike.com. Please submit your alternative celebrity look alikes at the ALT REPORT TIP LINE.
By Carles on 08 Apr 2010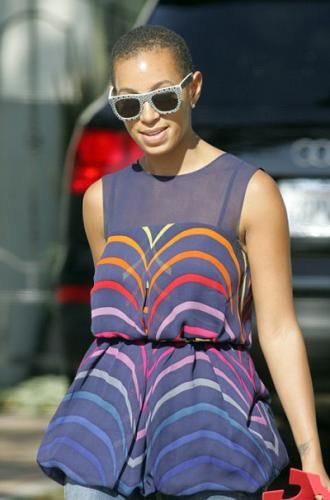 Solange Knowles is the little sister of Beyonce Knowles who is trying to 'make it' as an indie artist. She is unlikely to have a credible career in the same genre/path as her sister, so she has had to 'go alt' to carve out an authentic path that she probably finds fulfilling / allows her to create her own identity.
NYMag did some sort of 'puff piece' / 'profile piece' about her existence / career / evolution from failed mainstream to indie schmoozing artist.
In February, Solange performed live with Dirty Projectors for the first time, at an Ace Hotel party populated by all manner of cool people (Spike Jonze, Jason Schwartzman, Terry Richardson, Donald Glover, Michael Stipe … ). They did Solange's version of "Stillness Is the Move," with Dave Longstreth head-bopping while playing the "Bumpy's Lament" riff, then segued into Groove Theory's 1995 hit "Tell Me" (Solange's pick). She had only practiced with the band once, a few hours earlier in her hotel suite, and says she stumbled over her cue: "I was supposed to come out way later, but I couldn't hear shit. It was awkward. I just started dancing." The crowd certainly couldn't tell, roaring their approval for the surprise guest spot. (Justin Theroux seemed to be particularly into it.) Afterward, Solange D.J.'d the rest of the event, then continued the party upstairs in her room along with Dirty Projectors.
Does this music journalism make u feel like 'u were there' witnessing this special event?
Will Solange 'make it' as an indie artist?
Will Solange become a high level alternative celebrity, or is she going to become the African American female version of Jared Leto?
Whatever happened 2 the Dirty Projectors?
Solange also tried to explain what her new album will sound like by declaring that white indie artists 'stole' music from black people:
"You have Vampire Weekend who have more African references musically than most African-American artists," Solange says, by way of explanation. "As soon as I heard the Dirty Projectors song, it sounded like an R&B song. That happens when I listen to Of Montreal — I can hear so much funk shit that I grew up listening to … There's so many different musical references in everything now that it just makes sense to take advantage of this moment." She adds, laughing, "The white kids aren't going to jack our style anymore! We're taking it back!"
Do yall miss classic music journalism that tries 2 brand artists as being 'cool', 'up-and-coming', or 'buzzworthy'?
Is Solange going to 'make it' and get a 7.0-9.0 on pitchfork?
Is Solange Knowles the next Zooey Deschanel?
Is indie music born from African American music?
Did the human race really start in Africa?
Alternative Celebrity, DJ
Solange Knowles is Beyonce's little sister. She is trying 2 appeal to alt audiences.
Read more>>>>
Buzzband
Vampire Weekend is a popular indie buzzband that is kinda mainstream and ppl always say 'they're s00 preppy.'
Read more>>>>
By Carles on 17 Feb 2010
Solange Knowles, known as Beyonce Knowles' little sister, has recently come under fire for her penetration into the mainstream indie blog rock world. Solange Knowles is in the unfortunate position of living in the shadow of her culturally transcendent older sister, and has to carve out a niche where she can acquire an alternative fan base. This is similar to when an older sister is a popular cheerleader, then the younger sister has to be an alternative free spirit after she fails to be a carbon copy of her older sister. In the embedded video, Solange Knowles joins the Dirty Projectors on stage at what we can only assume is a high paying Fashion Week gig.
Many authentic Dirty Projectors fans are 'outraged', and claimed that Solange's inclusion on this song totally ruins the vibe and hopeful message of the song "Stillness is the Move." In the last 2 minutes of the video, the two female vocalists just 'bullshit/improv' high pitched wails over the some riffs, making it an overall negative listening experience.
In the past Solange Knowles has attempted to brand herself has 'being alt' after multiple on-stage collaborations with Of Montreal.
It is unclear whether the Dirty Projectors and Of Montreal think that they will reach new markets by enabling Solange to perform with them. At this point, most mainstream indie blogs have covered Solange's collaborations with these bands, encouraging readers to be accepting of her foray into the altosphere. Modern music fans are wary of Solange memes. According to wikipedia, Solange parted ways with her mainstream label, Interscope-Geffen-A&M, and will release her next album independently, which demonstrates the importance of blog coverage to her independent biz + press model.
Conspiracy theorists point to several tweets by Pitchfork CEO Ryan Schreiber which indicate that he may be under the Knowles/Jay-Z Family spell.


Do the Dirty Projectors blow with or without Solange Knowles?
Is Solange Knowles 'alt' or are u defensive abt her motives in the alt world?
Is Solange a legitimate, talented product, but shouldn't end up in ur content stream?
Can Solange Knowles hide from her mainstream past?