Seas of Mexican Children
By Carles on 17 Aug 2008

[Video may not be viewable in ur RSS reader]
I know a lot of yall don't get the opportunity to be an impressionable, 17 year old entry-level Mexi-alt living in Southern California, so I thought this video did a good job of capturing what the future of "fun" is. The modern DJ will have to do more than just spin records/press buttons. He will be a true showman, taking 'crowd participation' to the next level. The modern DJ is somewhere between a priest in his pulpit, and a rap super star.
Fave Parts of this video:
kute karaoke performance
seas of entry level alts searching for meaning/for a DJ to save their life (last nite)
Air guitar
head banger hair twirl
Belligerent Crowd surf
Opportunity to view party pix bros mastering their kraft
What's ur fave part?
Who is the best DJ in the world?
What makes a DJ simply the best (better than all the rest)?
By Carles on 01 Jul 2008

Can you find the alt celeb in this sea of children?
Hint: He used 2 manage Daft Punk, but then he told them that the should 'stop it with that robot gimmick' + Electroma was an overrated pile of robot feces, so they had to let him go. [unconfirmed rumor]
I read in a blog that the video for "D.A.N.C.E.' was actually a visual love letter from SoMe to the lolita he kept in a pit in his basement. [Note: SoMe does not keep young women in his basement, nor does he have a death pit in his house.]


BUT SRSLY...if ever there was a time to wear Child Predator glasses... Thnx a lot Ed Banger.
[Photos by The Cobrasnake]
***********
"HRO, they are just having a good time. There's nothing wrong with being around young fans who like your music and identify with your lifestyle brand. You are insinuating that they are child predators, when they are just a couple of French men living their dreams. Deep down, we all want to be adored by seas of children; this is why Steve Aoki crowd surfs 300% more often in 3rd world countries."
-an informed commenter who studied 'The Psychology of Alt Celebs' in College
By Carles on 25 Mar 2008
I can't believe EMO kids are being hunted down and beaten in Mexico. Basically, the heavy metal kids, punks, pop-listeners, skaters, goths, and every other subculture is having rallies in order to FIGHT AGAINST THE EMOS.
From a Mexican emo war reporter's blog:

The spark came first in Queretaro on March 7. An estimated 800 young people poured into the city's Centro Historico hunting for emos to beat the crap out of. They found some. The next weekend it spread to Mexico City, where emos faced off against punks and rockabillies at the Glorieta de Insurgents, the epicenter of emo social space in the capital. There's also been reports of anti-emo violence in Durango, Colima, and elsewhere.
Here's a video from it. You can really see the tension between the EMOS and the PUNKS:
[youtube=http://www.youtube.com/watch?v=fJPeffMSzVA]
Anyways, I just wanted to congratulate Mexico on going out of it's way to EXTERMINATE a trend, as opposed to just simply moving into a new consumer-driven trend with a little bit of a self-loathing tone.
It's good to see that people can unite using the internet, and stand up for a cause. I mean, myspace drama is one thing, but to transform that passion into a WITCH HUNT where emo kids are beaten down in broad daylight is simply amazing. Maybe Obama should stand up agains the emos.
I think the thing that is the most disappointing about this whole re-introduction of EMO into my sphere of consciousness is that there still isn't really a definite answer on 'What emo is.' I always thought the American meaning of 'emo' was sort of ambiguous, but it's good to know that the Mexicans went ahead and set the definition EMO=PUSSY WHO SHOULD BE LYNCHED.
It's also important to take some time to celebrate your consumer self-awareness, and your freedom to express yourself without fear of one group of idiots killing your group of idiots. It's good to live in a country where we can transition from partaking in one trend to a complete new one, without having to explain why we decided to change.
I [HIGHLY REC] reading more about Mexico's systematic extermination of emos. There are even suggestions of government conspiracy.
Hilarious thread about the anti-emo movement
http://www.last.fm/group/Anti+Emo+Death+Squad/forum/28627/_/392476
LA WEEKLY BLOG post about kiling EMOS
http://blogs.laweekly.com/ladaily/letter-from-mexico-city/more-on-the-emo-attacks-in-mex/index.php
the Daily Swarm
http://www.thedailyswarm.com/headlines/mob-emo-bashings-sweep-mexicotelevis-vjs-rants-inspire-violence/
By Carles on 22 Mar 2008

Spotted: DJ and heir to the Benihana fortune, Steve Aoki being held up by a sea of Mexican children in a remote Mexican city at a party sponsored by Nike, so that Nike can appeal to seas of Mexican children in remote Mexican cities.
RACISM IS DEAD, YALL. If a sea of Mexican children can hold up an AZN man, then there are clearly no problems--there's no such thing as skin colour. Every one needs to chill out and listen 2 more remixes, and just have fun, and wear Air Force Ones.

The Global Economy will end racism.
-the topic sentence of HIPSTER RUNOFF's thesis before he had to drop out of NYU to partie, 2005
[the Cobradank]

xx NEW HIPSTER RUNOFF GIMMICK xx
...in search of... WHAT DOES CORY KENNEDY EVEN DO?


Cory Kennedy: She stands in front of stuff and looks BLOWN/like she wants to give you a tugjob.
If you were founder of Nike, Phil Knight, would you do everything in your power to keep this picture from weakening your global brand?
Find out more about Cory Kennedy at her Myspace 3.0 page
http://en.wikipedia.org/wiki/Cory_Kennedy
By Carles on 17 Mar 2010
The Whitest Boy Alive is a band that contains the member Erlend Oye, one of the most beloved alt celebs of all time. Their show is known as an indie pop fiesta which features dancing + chill vibes... Recently, they played a show in Mexico City, and Erlend Oye had his glasses stolen by the crowd. In the video, you can see the awkward moment as he climbed the balcony, had his glasses removed, then had people yelling "lentes, lentes", which we assume is the Spanish /Mexican word for glasses. Erlend has the ultimate face of 'not chill, bro' to all of the Mexican fans.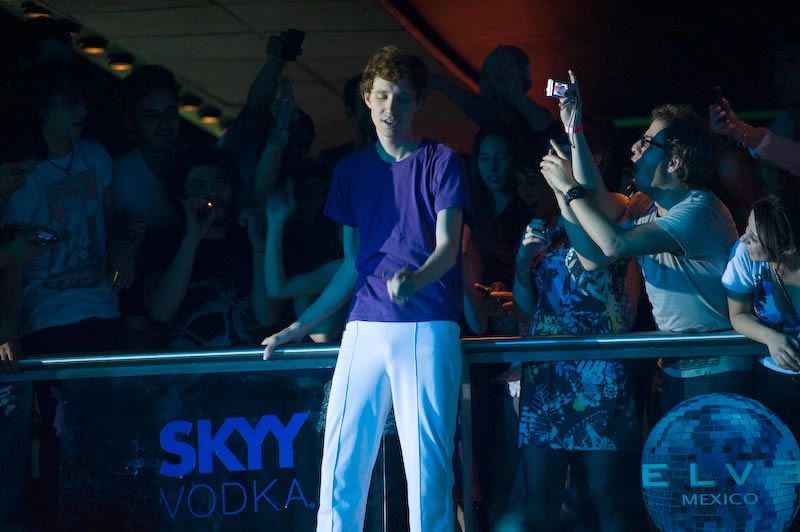 Glasses are one of the only ways that people with poor vision can see, so the band immediately quit the show. The glasses were reportedly broken as he climbed into a crowd of Mexi alt teens /a sea of Mexican children.
Fan Account from the exclusive Alt Report TIP LINE:
Yesterday I went to photograph a The Whitest Boy Alive show at a shitty night club (in Mexico city) and when it was about to end, Erlend Oye decided to climb a balcony to sing with some of his fans and obviously all the hipsters there wanted to touch him, so suddenly they broke Erlend's glasses. He managed to keep a piece of the broken glasses but there was another piece missing. He climbed down, and told them: hey, give me my glasses back , I can´t see a thing

No one gave them back and the show ended. There were more than 2000 Erlend clones enraged because they didn´t get an encore.
I think it was pretty funny, you don´t throw yourself at people when you virtually depend on your glasses, or at least you carry another pair for emergencies.
Was the Erlend Oye's fault for climbing into the balcony?
When you go to Mexico, can u expect them to 'play by the rules'?
Would this have happened in America?
Should Mexico pay the bill for his prescription glasses, or do they not have vision / dental coverage with his health insurance?
The Whitest Boy Alive wrote a letter to the Mexican Alt Audience:
dear mexican audience
....i am writing these few words to make one thing clear.

the show yesterday ended like that, because somebody stole erlend's glasses.
that's fucked up, but it does NOT mean the end of the world.
the show was almost at it's end anyway, we were going to play maybe two more songs
so you didn't really miss out on something amazing.

of course there was better ways to end the evening, but you have to know
erlend doesn't see without glasses, and that's why we couldn't continue playing.
yes he was upset, but that's not why we didn't finish properly.
it's just impossible to play, sing, dance and entertain people without seeing them.

let's forget about this strange ending and try to remember the good time we had
and we had some good time.

we are going home now after 3 great weeks in your beautiful country
and we will always come back, don't worry

see you in a year or two
maybe coachella???

marcin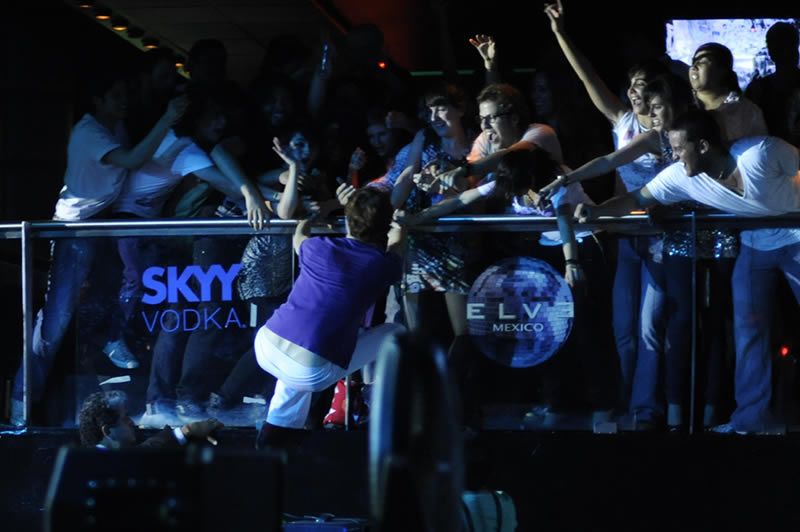 Does the band sound 'pissed'?
Did the band do the right thing by stopping their show?
Should Erlend have had backup glasses / rec specs / contacts / eye surgery?
Was it chill when the crowd started to chant 'culero'?
Have yall ever had something stolen from u / broken by other people in front of u?
Did Mexico ruin this chill, indie pop experience?
Did these Mexican fans think that his glasses were just a silly accessory, but not actually a way for him to be able 2 see?