Forever 21 humor
By Carles on 04 Mar 2009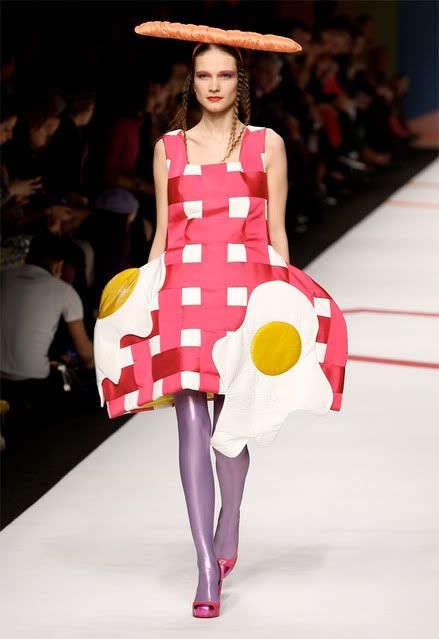 This is an image of a high fashion show where a hot model is wearing clothes with a sunny side up egg on it. I think she also has a baguette on her head. She might be some sort of transformer who transforms in2 a picnic. Not sure what the dress is trying to 'say', but I think it has sometimes to do with survival, and how we have to go grocery shopping to stay alive, instead of being a hunter and gatherer. Might also have to do with the death of the nuclear family.
I know that I am kind of a 'fashion blog' but sometimes I don't 'get' fashion. It seems like the most bloggable looks are stuff that are too expensive for even upper-middle class people to buy. And most people 'don't look like models' so they look like they are 'trying too hard' when they try 2 look 'all cool and fashion-forward.' It makes me sad when I see poor people who wear 'clothes for poor people that they think are cool, trendy, and sexy.'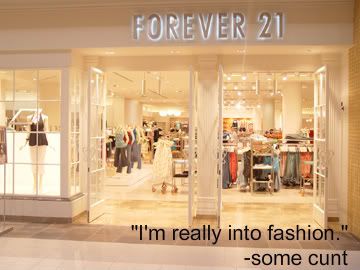 Every1 is just trying their best to look presentable and modern. Kinda sad when people 'try 2 b sexie' when they aren't.
I feel like if I saw some girl with eggs on her, it would make me think she is 'trying too hard 2 be kutesy' and probably needs to focus on developing a more intense sexual identity, instead of seeking shelter in deceptive kutesy aesthetics which represent a reluctance to 'grow up.'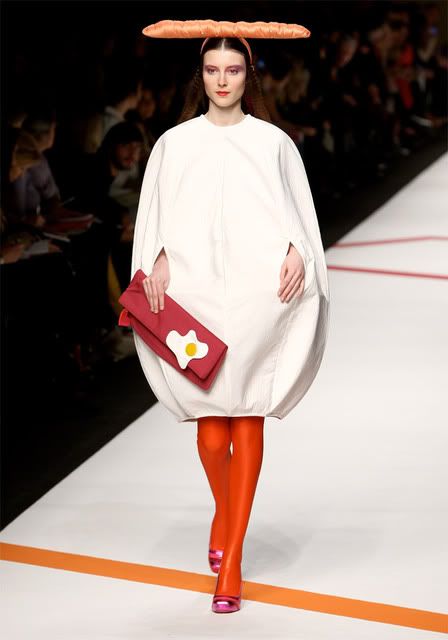 UGH. Still haven't figured out what's the difference between design, art, and memes?
http://www.hipsterrunoff.com/2008/12/whats-the-difference-between-art-design-and-memes.html
Sometimes I just feel like we live in a world where every1 is just trying 2 b blggd about. Kinda like that 'In the future, every one will be world-famous for 15 minutes' quote by Andy Warhol, except it'll be m0re like:
"In the future, everyone will be internet-famous for 15 blog minutes."
-Carles, blogger from HIPSTER RUNOFF (2009)
By Carles on 23 Dec 2008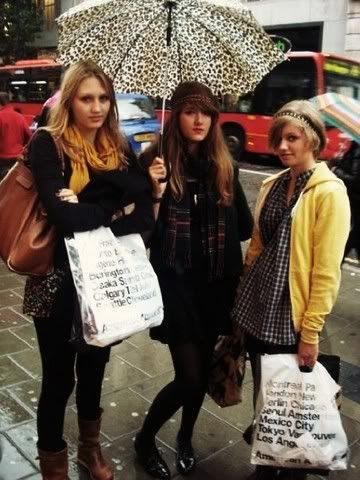 [Photo via lookbook.nu]
As yall know, I am an alternative businessman with relevant opinions on how to set up a successful alternative business. If u come to my blog offices for a consulting session, I will teach u how to turn 10 Am Appy t-shirts and a permanent marker into a thriving alternative business.
Today's Alt Biz Lesson is about product packaging. What yall need 2 realize is that product packaging represents your product. Sometimes even more than ur actual product. Even though 'Am Appy' is 'just a t-shirt', the way that the colourful product sits in a meaningful clear bag with names of relevant cities printed on it does a better job of branding. In this picture, you can see proud entry level alts who are proud of their recent purchases at the popular international boutique "The American Appy." The opportunity to walk around the city with a branded bag gives the entrylevelers a chance to show other consumers what 'people who look interesting and culturally connected' are purchasing.
I know yall don't realize this, but when u walk with this bag, u r a 'walking billboard', kind of like a bus with an advertisement, or one of those portable billboard thingies.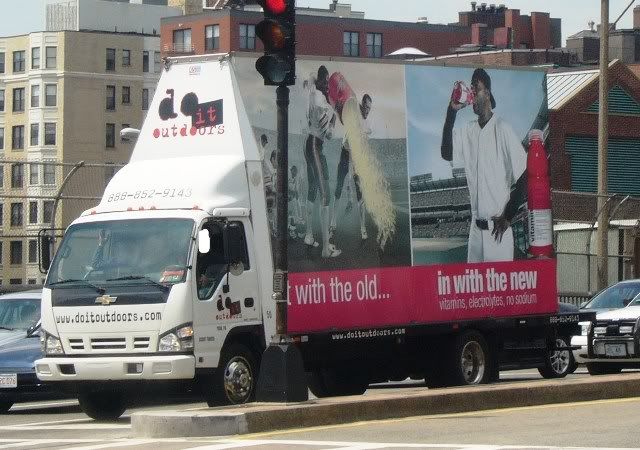 I guess what I'm trying 2 say is that yall need 2 b aware of the world around u.
Understand that product packaging can inspire consumers to rally behind ur product's brand.
Should I use my Abercrombie bag as my backpack when I go back to High School to get my G.E.D.?

Should I be proud of my Forever21 bag?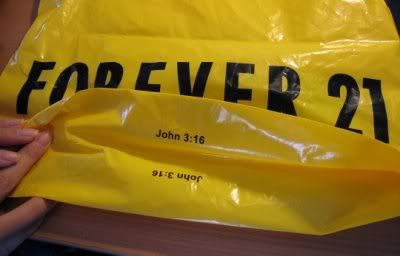 Is it still authentic to brand yourself with The Gap?

I <3ed my macbook packaging so much that I use it on a daily basis as a purse/laptop bag so that people nvr 4get that I'm a Mac user.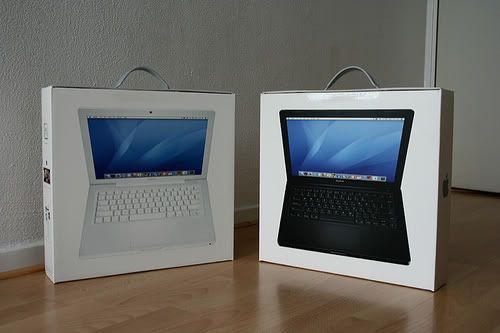 When I grow up, I will only live in a city that has been listed on an Am Appy bag.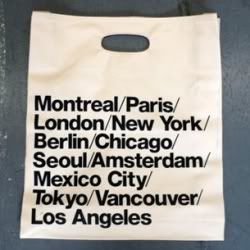 What's yalls favourite bag 2 walk around with?
By Carles on 10 Jan 2008
Whenever I go to my favourite party pix sites, like the cobrasnake, I always see that there's 1 out of 10 dudes who dress like this:

or this:

Several years ago, you could say 'he dresses like he's in the Strokes!'

Others might say 'He looks like he's in one of those 60s/70s rock bands! I loove the Stones!!'

In 2008, we can boldly say, 'He Dresses like he's the bastardized Jonas Brother.'

What's up with THE JONAS BROTHERS? I feel uncomfortable when you find out these Disney phenomenons are a 'big deal.' I haven't really heard their music, but I'm sure it's in their best interests to start DJing/making bangers, if they want to stay alive in 2010.
They should also help Forever 21 launch their men's line.
By Carles on 05 Jan 2008
In search of the fashions that Forever21 will manufacture in 2009...

Abused-Orphan-Core?

MEDALS: the next headband?

Girls in Davy Crockett-ish hats?
Via Glam Canyon (My Fave Street Fashion Blog)
By Carles on 13 Jul 2010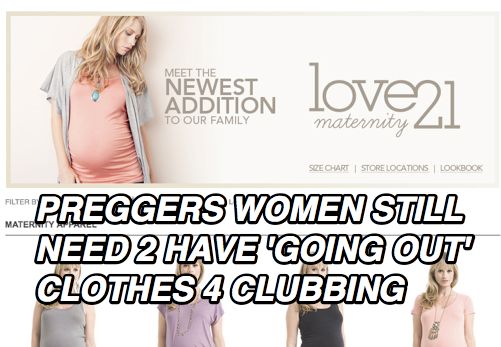 From what I understand, Forever 21 is a 'tacky ass wholesale brand' where mainstream women can buy tacky ass generic 'going out' and/or 'cutesy clothes.' It is kinda like the mainstream Urban Outfitters, except with a way high slut rate and a junk per capita rate. Many Forever 21 designs are seen on full display at tacky clubs all across the country, because poorer people think it is a 'classy store.' Feel like young girls also think the clothes there might be 'high end' or something. Maybe like 'the Old Navy 4 female tween skanks and poor 18-35 year olds who need to get their swerve on in a club.
N e ways, they 'controversially' launched a new maternity line, and it is only being carried in stages with massive teen pregnancy epidemics (not sure if u r genetically predisposed to teen pregnancy or if it is created by society):
currently, the line is available in five states: Arizona, Alaska, California, Utah, and Texas. Why those places? It could be random. But it is interesting to note that three of those five states – Arizona, California, and Texas – are on the list of states with the highest percentages of teen pregnancy in the country.
Do yall live in these states?
Are there tons of girls who are pregnant?
Should Am Appy respond by offering more maternity options in size XS?
Do yall feel happy for pregnant teens who now get to 'look fresh and fashionable' even though they have a huge belly with a child forming in it? Should they be forced to wear big baggy Walmart men's clothes in shame?


Glad I can still wear my leggings even after I get pregnant.
Do pregnant teens deserve 'higher self esteem', particularly for baby shower events? Worried that pregnant girls who shouldn't be pregnant might 'get pregnant again' while they are pregnant if they look too sexie/start hitting up clubs again.
Worried that our planet is becoming 2 crowded... Worried that the Chinese will eat all of our food.
Does the USA need to put an upperlimit on how many children parents are allowed to have? Should Africans start adopting American babies that won't have a good life?
What kind of brand is Forever 21?
Have u ever shopped in a Forever 21?
What kind of girls/women wear Forever 21 clothes?
Is Forever 21 bad 4 society?