Curses
By Carles on 26 Feb 2009
Sorry that I am not a 'pure mp3 blog n e more.' The mp3 economy has kinda been on hiatus, except for blogger who wanted to 'get more hits' by 'posting tracks from the latest anCo/Andrew Bird album', etc. Just want to give yall stuff that's worth being on ur iPod without having 2 read like 100 other blogs.
Thnx 4 trusting me as 'a tastemaker.'
Here are 3 meaningful mp3s.
*************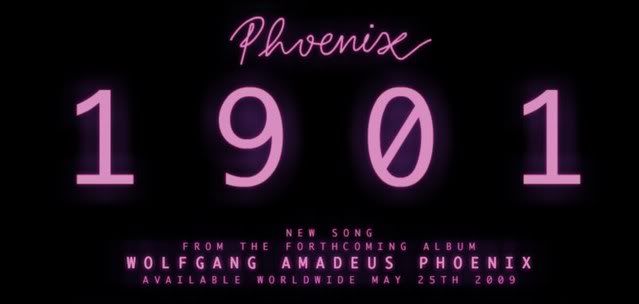 [MP3 #1]
Phoenix - 1901
Phoenix has always been good. They are from France. Their albums have generally all been 'pop that people respect because it is well-crafted', but since the mp3 economy has been so dry lately, I think there is a high demand for this kind of accessible sound, so it will probably be 'moderately overhyped' and lead people to say 'it's not THAT good.' I have always wondered how their lead singer sounds so French when he sings. Think he is married to that Lost in Translation director lady. When this mp3 'dropped', it kinda reminded me of the glory days of 2k7, when all blogs posted the same mp3 on the same day, cuz it was 'so good/relevant.' Hopefully Q2+Q3 give us more new music to blog about than Q1 did. h8 u 2k9Q1.
Myspace
http://www.myspace.com/wearephoenix
***************


[MP3 #2]
Friendly Fires - Skeleton Boy (Air France Remix)
I have posted the original version of this song, in addition 2 various versions of their song "PARIS." This remix is supposed to be conceptual, I think. So while I am not sure if I actively 'like' it, I think it makes sense if u have a lot of time 2 kill and need something that sounds 'different.' I think not all remixes are supposed 2 be 'dance anthems', kind of like when AnCo remixes something. But yeah, I will keep it in my iTunes library, and reflect upon how much 'new music I sample/hear because it is free [via blogforks].'
Myspaces
http://www.myspace.com/theairfrance
http://www.myspace.com/friendlyfires
*****************


[MP3 #3]
CURSES! The Deep End (Holy Ghost! Remix)
I think this song is authentic disco. I remember when the electro era was ending, music started 2 sound like this. It is an upbeat, dark, urgent jam. Holy Ghost! is a pretty authentic band, so whenever they remix something, it is probably worth listening to. [mp3 hijack via discodust]
Myspaces
http://www.myspace.com/cursesareforever
http://www.myspace.com/holyghostnyc
************
HAVE YALL HEARD ANY GOOD NEW BLOGGABLE MP3S LATELY?
Is there a new 'buzzband' that every1 is 'blogging/talking about'?
Is there a 'new blog on the street' that I should pay attention 2 because it has impeccable taste and might singlehandedly save the bloghaus genre?
do u like music?
By Carles on 05 Oct 2007
Health is a band that was built for the modern world. In a music landscape where your music needs to translate well in a live setting, and manage to be remixable, it's easy to understand why HEALTH is such an easy band to add to your list of 'Favorite Music' on your profile. After a split release with Crystal Castles, HEALTH is in the process of becoming the next blogosphere sweet hearts. Basically, they have really good songs and really good remixes.

They are on tour, as we speak, so go to their myspace to see the dates. Buying information is also provided there.
MP3: Health - Glitter Pills
MP3: Health - Triceratops (CFCF Remix)
MP3: Health - Heaven Stems (Pink Skull Remix) [ HIGHLY REC'CD]
Health On The Web:
Health Myspace: http://www.myspace.com/healthmusic
Health Remixes: http://www.myspace.com/healthdisco (all remixes are downloadable)
NEEDLESS TO SAY, HEALTH IS GOING IN MY TOP 8.