Britney Spears
By Carles on 12 Oct 2007
I'm no graphic design guru, but is Britney Spears' cover art for BLACKOUT really worth taking seriously?
What aesthetic does it convey, and do you think it reaches her target audience?

When I look at it, here's what comes to my mind.
Google Image Searches for:
FASHION SHOW FLYER

HAIR SALON AD

CAR SHOW FLYER

ASIAN FOOD MENU

Am I being unreasonable? How is she able to evoke so many tacky aesthetics in one album cover? Does this make her a genius?
By Carles on 08 Oct 2007
If you want the Britney Spears leak, get it here.
Thanks Pretty Much Amazing (Blog Link).
Can you believe she even has a new album coming out? I thought she was focusing on the 'being famous'/'living in LA' part of her career. It's the promotional demo, but still worth a listen. It's pretty less than mediocre, as expected. At least she'll have some CLUB HITS.
You can't help but wonder if the album was named after that famous party in New Orleans, LA.

The only thing 2007 has taught is us that when Perez Hilton and Britney Spears die, they will live in hell together, eating Jack N The Box tacos in a 1 bedroom apartment. Do you ever
MP3: Britney Spears - Gimme More
By Carles on 28 Sep 2007
Since Britney Spears' "Gimme More" is the #1 track in iTunes, Perez Hilton has called upon America to support Feist to take down Britney.
Feist wonders if this is what she wanted.

Perez Hilton has a great argument, though:

You know the song. 1,2,3,4 is the tune from the new iPod commercial!
It's an awesome song and you HAVE to own it. And if you already bought, then buy it again, y'all.
Read Entry Here. I think Perez Hilton mismanaged his own image, but that's just my take. Before it's all said and done, he'll definitely had quadruple bypass surgery. I read a blog that said he is addicted to Jr. Bacon Cheeseburgers and Wendy's 5 piece nuggets.
Just download this Feist remix instead. It's 'more fun' for your 'on the go' lifestyle.
MP3: Feist - 1-2-3-4 (VanShe Technologic Remix)
by the UlTiMaTe LaMeStReAmER!!!

BRITTY WITTY BRATTY WATTY!
I LOVE LOVE LOVE YOU! K-Fed is a FREAKING IDIOT for leaving u. Yall have 2 beautaful children, and he HAD to have found a way to at least keep it together for yall. I mean.. srsly... as some1 who had parents who only were together for one night, it makes a HUGE difference. On top of that, ur body is BANGIN, especially after pooing out 2 children. How did u work the weight off bb? I still have to use a free consultation with a personal trainer at the gym I enrolled in. Ugh they srsly need to stop calling my phone.
I heard that u had a FULL FRONTAL lobotomy! I remember my foster parents wanted to give me one of those. Effing a-holes. I am GLAD that I have my brain, which keeps me STRONG and SMART.
Xtina Auglaleria who? #TeamBritt
Justin Timberlake DEFANATELY wishes he still had ur a$$! He can't even act now!
by the UlTiMaTe LaMeStReAmER!!!

UGH! Don't tell me ur engaged u lucky, lucky bitch! The truth is that ur so lucky, kinda like that one song of urs! Britney Spears has a bangin bod, an AMAZING fiance, and 2 beautaful lil runts. I wish I had her career! And she stays young FOREVER!
Honestly, I was really jeal when all of my friends from high school and my one year of community college were getting engaged! All of them had the NICEST rings. I mean, I probably couldn't find a husband who could afford a nice ring. I have to pay for my car insurance and my rent! I would probably get a ring pop as an angagement ring, but it wouldn't be too bad, except it would be so yummy that I would eat it then I wouldn't even have a ring. :-( My exfiance actually proposed once, but then on my wedding day, he said that he had met some one else and made me pay the catering bill. I had SO MUCH prime rib in my fridge, so it was actually kinda not that bad.
Britney srsly has it all. She is truly a lucky bitch. She even got to marry Kevin Federline once! I would take her sloppy seconds ANY DAY of the week. Honestly Brit, if ur reading this, let's plz hang soon. I wanna see ur life!
Gaga Who? #TeamBrit4evr
Gaga will NEVER find true love because she is too artsy! I need an American gal like Brit in my life! (as my bff)
by the UlTiMaTe LaMeStReAmER!!!

BritBrit! Nicki BB! When is ur tour coming 2 MY town?!
honrestly, even if your tour did visit my city, i dont think i'd be able 2 afford a ticket. #moneytroubles See, my ex bf told me he had found a super-great invenstment plan, and that we'd be MILLIONARES overnight, so he took ALL my money to "invest" but it turned out that he was full of doo-doo and had stolen my $$! I trusted him! But maybe next tour! I am NVR investing in Tupperware again!
It turns out he works at Arby's and does this 2 girls all the time!
I luv luv luv both of ur blonde hairdos! im thinking of getting a new hairstyle, and maybe blond is the color i'm looking for! i will DEFINATLY tell the hairstylist at Cheap Cuts to totally MAKE ME OVER! I
You 2 r and insperation to women ALL over the world!!
Britney... Oops U did it Again! And I like it! Keep doin it! #DANCEJAMZ
by the UlTiMaTe LaMeStReAmER!!!
I love love looove the new BritBrat video 4 "I Wanna Go".
THE Guy from HALF BAKED is in it! I used to love pot, but then i got depressed bc of the munchies...
She has TONS of ATTITUDE, which is what I need 2 battle all of my haterz, such as my exBF and my boss. I really just need 2 tell them off and let them have a piece of my mind so the know that i can still follow my dreams and it doesn't matter what they say 2 me abt my physical appearance. I AM a DREAMER.
She is a bad girl and i need 2 start showing off that side of me. Brit ALWAYS inspires me.
The video is FUN and beautaful and she is STILL the Queen of Pop.
Gaga WHO? #TEAMBRITTNEY
by the UlTiMaTe LaMeStReAmER!!!

BRITNEY BB, Ur BACK! U look HAPPY and SEXI and are having fun on a swing. #yay
I went on a swing 1 time but I dont want 2 talk about it. My exbf tried pushing me but a few local citizens needed 2 help. They couldn't move me at all and my exbf pretended he was a volunteer at make a wish foundation and broke up with me. #EMBARRSING!
I LOVE LOVE LOVE ur FUPA (fat upper pussie eare). i have a FUPA that basically extends all the way up 2 my double chin. I am slimming down for summer with portion-controlled sensible snacks so I exchanged it for a family pack of reeses mini-peanut butter cups—Hello PROTEIN! Protein is Amazing b/c it turns ur fat in2 muscle! Mr. Peanut <3
Britney really HAS IT ALL! Fame, Fortune, and a beautiful FAMILY. Sometimes when I am eating family packs I want a family, but at the same time, I <3 eating alone.
I NEED 2 hit the gym and trim down my fupa so i can see my gine when i pee.
by the UlTiMaTe LaMeStReAmER!!!

BRITNEY!!! Ur a classy girl!
ur a great mom and a POP STAR. I do not know what i would do without ur music to help me thru my 30s, ever since u started ur career. honestly ur an inspiration and i wish u nothing but the best. My exBf used to call me Bazaare because I would cry when I looked at myself in the mirror and kept my tshirt on during sex.
Brit LOOKS EFFING GOOD
I wish i could lose my baby weight even though i havent ever had a baby.
ugh
#flawless
By Carles on 04 May 2011
I just listened to this 'remix' of Britney Spears hit dubhousestep anthem "Til the World Ends." It was done by Salem. I think they just slowed it down and added dark synths and heavy drums. I guess that's pretty chill. Once again, they made a snuff video.
***~~Just wanna keep dancin' til the world ends~~***
U have to wonder if representatives from Britney Spears are going to attempt to get this taken down. I heard her dad has 'legal ownership' over her, as if she were an invalid. I really wish I could harvest a human daughter to be as successful as Britney Spears, and utilize her 2 make $$$. Whether it is in entertainment or a different industry, I'd love to be able to enslave some1 who just needs to be paid in food, love, and therapy sessions.
Do u <3 Brit Spears?
Did Salem 'fix' or 'ruin' this song?
Did u get an erection watching this snuff film video?
Is Salem getting 'too dark'?
Do u miss Kevin Federline?

Buzzband
Salem is a rape gaze buzzband who sing songs abt dark themes. Many ppl say they 'suck' while others think they are 'brilliant.'
Read more>>>>
by the UlTiMaTe LaMeStReAmER!!!
Britney looks KILLER in her new music video! S0 fierce! #rawr
The video is about the world ending and having a HUGE party. I hope I am invited to Britney's underground sewer party! #lol
But honestly, I hope the world doesn't end in 2012. I really want to be in a healthy relationship with a man who loves me before that. I want to be happy. I don't want to feel alone. I want to FINALLY get my DREAM JOB and quit my office job. I hope we have more time to live. I really, really hope so.
#TeamBritney!
Katy Perry who???? Britney is OBVI the #1 force in pop music right now.
GO BRIT!
by the UlTiMaTe LaMeStReAmER!!!

OMG BRITNEY...
U look HELLA GOOD :-)
U look HAPPY with the kids... I wish my parents took me to places and helped me to become cultured. I am sad bc the only place we'd go is to the McDonalds playground whenever my mom played Go Fish at her card club. She would drop us off and give us Happy Meal Money, and we'd be there for 6 hours until the manager eventually had to call the police and it GOT MESSY. That's probably why I love McDonalds so much now :-P #McFlurry #50pieceMcNugg
I would LOVE 2 be as good a mom as Britney, but who knows if I'll ever find my Kevin Federline...#princecharming
Stay strong, Britney! Gaga could NEVER raise kids... U r 1 of a kind #staystrong
I hope my kids are as HANDSOME and HUNKY as Preston and Jayden <3
by the UlTiMaTe LaMeStReAmER!!!
Check out Britney performing 'Hold It Against Me' LIVE in San Francisco on Good Morning America.
I think Brit is officially BACK and ready 2 TEAR SHIT UP... Gaga Who?
The performance is flawless and her voice sound AMAZING. You would NEVER GUESS that she had 2 kids based on her sexi, sexi outfit.
I lovelovelovelovelove Brit. #notagirl_notyetawoman
U look HELLA GOOD, bb! #Federline_Who? IT's #Britney_Bitch

by the UlTiMaTe LaMeStReAmER!!!

I HAVE to see Britney on tour this year or else I will KILL MYSELF #notjoking
Last time she was on tour, I was working the night shift at Dunkin Donuts before I got my current job and I was PISSED that Julio didn't show up to take over for my shift, so I ended up WASTING money on tickets that I didn't even get to go to her concert. Julio was a jerk who sexually harassed me, and NO I am not racist against Mexicans, he was just a huge prick to me and never helped me glaze donuts even when we were SWAMPED with customers. #AtLeastIGotFreeDonuts
Britney looks HELLA GOOD, bb! U would NEVER GUESS that she has had kids come out of her body... U gotta give her props for working off the baby fat and finding confidence even after Justin Timberlake and Kevin Federline. I honestly have a REALLY HARD TIME getting over breakups.
#TeamBrit
#LovelyLadyHumps
Fergie who? Look at that a$$, bb!
by the UlTiMaTe LaMeStReAmER!!!

Britney! U look good, bb!
I usually wear a 1 piece as my swimsuit, too. So HOPEFULLY those are coming back in style...
She did a tell all interview with OUT Magazine, but I don't think she came out or anything because she is dating a guy, and she used to date Kevin Federline.
One of the interns at my office is a gay man, and I have NOTHING against him. In fact, we are very good friends and sometimes he brings me frappucinos because he shows up at 10 am and knows that I NEED a pick-me-up. He's an angel and we might hit the gay bar this weekend! Gonna be faboo!


BB! Keep looking good! I'm glad u <3 the gays! More pop stars need to support gays!
Gaga Who?
#TeamBritney
by the UlTiMaTe LaMeStReAmER!!!

KEVIN!!! KEVIN FATTERLINE!!... What happened, bb? Why are you so thick? I honestly remember the time when Kevin was a smokin hot version of Justin Timberlake with even more #swag, but then everything went south :-(
BB stop eating ur feelings. It has gotten ME in a lot of trouble #dontask #afraidtosteponascale
Not letting their failed marriage get in the way of supporting their children, Britney Spears and Kevin Federline both were on-hand for a Little League game in Calabasas CA on Sunday (March 6).

The "Hold It Against Me" singer was joined by current beau Jason Trawick and son Jayden James in cheering on Sean Preston during the kiddie baseball matchup.
At least Britney and Kevin were able to put aside their differences to meet for their son's baseball game. I hope Kevin isn't too hard on his son during sports. My dad HATED ME because I wasn't a boy and didn't play sports, so he would ignore me a lot, and wasn't really interested in going to see me perform at the high school football games (I was in color guard).
I am really happy that they have a decent relationship even though they are divorced...
KEvin... Honestly just accept ur size and be happy. Ur really beautiful on the inside, and keep being a good dad. I wish I had played little league so that my dad came around sometimes, but I can live with that...
SEE MORE PIX OF BRITNEY SPEARS AND KEVIN FEDERLINE'S DRAMATIC ENCOUNTER
by the UlTiMaTe LaMeStReAmER!!!
YALLLLLLLLL effing Britney is back. Check her out on Seacrest hyping her new album!
It was the WORLD PREMIERE of her new song "Til the World Ends"! She's so talented... like a prettier version of Lady Gaga <3

"Till the World Ends" is a killer club banger that I am definitely gonna put on my iPod shuffle (ugh I gotta save up for one with a real screen).
Brit is so back, so healthy, so happy. I'm so happy 4 her!
Seacrest kills it on the interview!
Props 2 Britney 4 bringin down the house
Gaga Who? #Team Britney
by the UlTiMaTe LaMeStReAmER!!!

YALL BRITNEY IS BACK
Check out this snippet clippy of her new song "Big Fat Bass" produced by Will.I.Am...
As yall can tell... the song is off da effing chain, and I can't wait to hear it when I am dancing with my girls all over the floor next time Happy Hour gets a lil bit out of control. I gotta stop drinking so many sugary drinks bc I get really hung over and have to throw up :-(
will.i.am is so talented and makes hits 4 evry1, so u gotta give Britney props for singing over 1 of his phat beats
This song rules! Gaga Who????
#TeamWill.i.am_via_hologram

by the UlTiMaTe LaMeStReAmER!!!
Britney is back, yall! And her new song "How I Roll" sounds better than evr. Her producer "Dr. Luke" tweeted out a teaser sample, and it rlly sounds like an electro house banger.
What do yall think?
What do yall think?
What do yall think?
HOW I ROLL TEASER by drluke
Part of me thinks it sounds like a robot that is pooping on drums... but then part of me <3s everything that Brit does... even if it is popping out Federline spawn. :-)
Britney is back, Bitches!
All the haters said she was dead... but she'll never die.. (unless she srsly dies in real life) #pray4Brit
Gaga Who? #TeamBritney
by the UlTiMaTe LaMeStReAmER!!!

Look at our girl Britney walking her spawn thru the airport...
U gotta give her props. She's a mom. She brings it. She releases hit singles. She still parties... But at the same time, she keeps making that money to raise these kids who probably get anything they want in the world. Must be a killer life 2 have a milf mom AND 2 get Apple products b4 u even know how 2 use them.
At the end of the day, u gotta tip ur hat 2 her and say 'Britney... U have a better life than me.'
Props 2 her 4 that...
<3 Brit <3 Have a safe flight, bb! I usually fly Southwest :-(
~~~WoULd U hOLd iT aGaiNsT mE? ~~~
By Carles on 10 Mar 2010
Zooey Deschanel is in a band called She & Him with some bro named M Ward. For some reason, they have indie credibility, I think because she has cute bangs, and because she is married to the Prince of Indie Music, Benjamin Gibbard. In She & Him's video for "In the Sun", you can tell that they are jonesing for mainstream traction. They utilized several different visual gimmicks to attempt to subconsciously appeal to the mainstream music fan.
Even though the song itself is sorta honky and her voice is 'interesting' in a way that you could say might be negative, it seems like it is in the perfect position to 'cross over' and end up on the mainstream radio. Feel like there are a few flaws with the video. They should not have let the bro from the band play the love interest because he looks like he is a 40 year old high schooler. In addition, the dancers aren't graceful enough.
Sorta feel like this video 'ripped off' the contextual setting of Britney Spears' hit debut video "Baby One More Time."
Do yall prefer skanky backup dancers?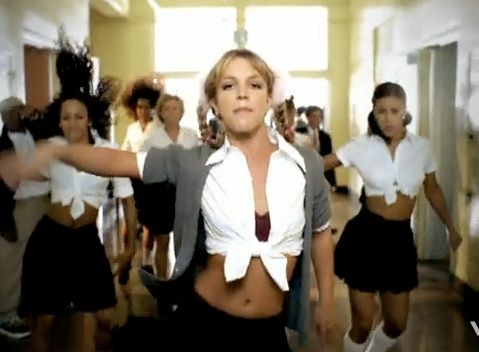 Or some bro in a lil scarf?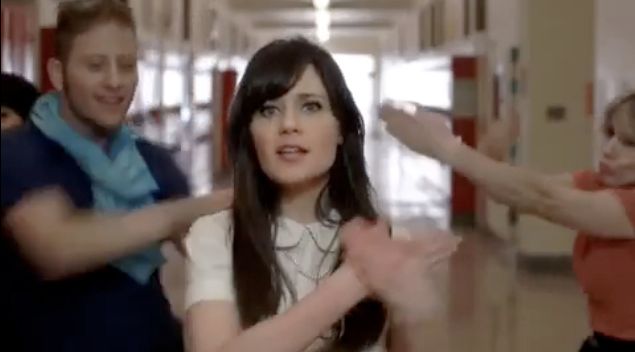 Video: Britney Spears - "Baby One More Time"
I think the ultimate goal of this video might be to brand the band as something similar to Feist. The video for "1-2-3-4" confirmed that cute indie girls also have to be whimsical dancers who are just looking to be 'free spirited' in a some what surreal context.
Circular imagery + crane shots seems important.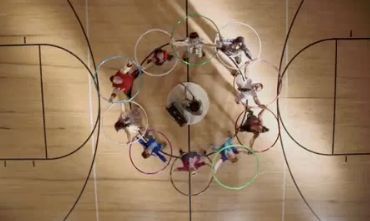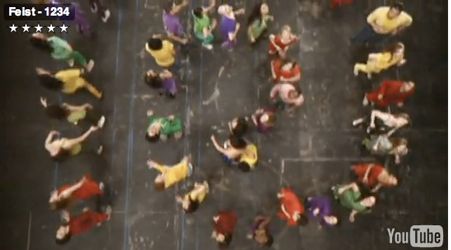 Feist's pre-iPod brand was definitely aided by her desire to 'just dance' [via Lady Gaga]
Does Zooey Deschanel need to go for upmarket Feist audiences, or 'shorten that skirt' and go after the Britney Spears fans?
Is She and Him a 'good product'?
Is Zooey Deschanel a relevant alt female?
Did Joanna Newsom teach us that "they can't all be Feist"?
Will Zoey Deschanel have a Britney Spears-like breakdown and bitter divorce from Ben Gibbard that alt blogs use to fuel content for 1-2 years?
Is She & Him's target audience male or female?
Hit Me Zooey 1 more time.
Alternative Celebrity, Actor
Zooey Deschanel is an actress turned indie songstress in the mediocre buzzband She & Him.
Read more>>>>