Bloody Beetroots
By Carles on 25 Mar 2009
This is a recap of popular recent bloggy/bloghouse/conceptual/indie rock music videos.

Music Video: Futurecop! - Karate Kids
Analysis: The song is repetitive and more tolerable than you would expect for a song 'that is rlly repetitive.' The video is an aggregation of meaningful 80s movies that make me wish I was born before 1990 so that I could remember these iconic movies. Kinda sad that movies these days are sooo ghey/predictable/not THAT great. Miss times when movies were 'larger than life' and not just a gimmick that ended up costing u $40 per person after snacks + drinks. The video ends with Jon Candy in 'Uncle Buck.' laters.
Music Video: Yeah Yeah Yeahs - Zero
Analysis: I never really listened to this song, just kind of skipped around the video for a few seconds. I remember the YYYs came out with that song about some1 'not loving u like I love u' and it was kinda catchy and good enough to be mainstream. But this video kind of seems like they are 'pretending to be a really popular band' and also 'making music that is aggressive enough to feel like you have to take it seriously, yet unidentifiable for both alternative and mainstream consumers.' Never really got my attention and just felt like generalizing it and 'hoping that I am right.' Will they sell albums? Is Karen O authentic, or just a 'cookie cutter alternative diva'?
Music Video: Calvin Harris - I'm Not Alone
Analysis: I remember when Calvin Harris was just a guy with a bloghouse single about 'having all of the girls' or something. I think this song seems like some sort of Euro-techno-bro-house music. While I could be 'impressed' with his 'epic sounds' and 'musical progression as an artist', I will probably not listen to this song again and probably enjoy a remix of the song by an authentic blogcentric remixer more than the original. The video is pretty 'whatever.'
Music Video: Winter Gloves - Let Me Drive
Analysis: I don't really 'like' this song or video or have ever heard of this band/will ever hear of them again. But it sort of just reminds me of alternative life before the internet really 'took over' the indie music landscape. I think a younger, more alternatively naive version of me would have thought that this video was 'cool' and that the song had all of the elements of an 'authentic indie band' (keyboards, bearded bro with glasses, aggressively earnest lyrics). Miss those days. Maybe we were more drawn to bands like this because there was 'less crap' to sift through, so it was less pressure on us and more time to find bands to be 'tolerable.' These days, I only want greatness.

Music Video: Bloody Beetroots (Ft Steve Aoki with original vocals) - WARP
Analysis: I think this song is a 'banger.' I think the brand of the song is supposed to be HARD. There is an angry AZN man yelling at the camera sometimes. I wonder if this new brand of bangerelectro is like the modern, niche version of 'slipknot' for kids who aren't as poor as the kids who got really into hardXcore rock. I sort of wish I lived in the greater Los Angeles area, and had the opportunity to be a slow-motion alt 'partying to this song' in the video. Feel like I probably would have twittered about how much fun I was having while I was at the video shoot. Not sure if I would put this song 'on my iPod' but might play it if I were a bangerrific DJ. For a more critical, well-informed opinion on this music video, visit Big Stereo, where the blogger uses phrases/sentences including "Slo-mo cookie cutter hipsters" and "Bloody Beetroots come off as a pale reflection of better times spent with Vitalic." One time I wrote a blog post about Steve Aoki that was 'epic.' Maybe I should read it again and react to it with my current state of mind. h8 being 's0 fickle/flighty.' just trying 2 stay relevant. but n e ways... I think this video is a 'mockumentary' or something.

Music Video: Smashing Pumpkins - Today (Morgan Freeman + VISA remix)
Analysis: Can't believe the Smashing Pumpkins 'sold out' and let VISA use their song in their commercial. jk. happy 4 them. Billy Corgan seems like a chill bro who has been through a lot [via 1979 tonight, tonight]. Kinda sad how we're all getting older and music 'that was cool during our youth' is being used to encourage us to buy stuff with money that we don't have. h8 marketing. sad on the inside. Need to buy a flat screen tv to cheer myself up. Might also buy 'a wii' and 'some marijuana/lean.'
Have yall seen n e good music videos lately?
Just trying 2 stay relevant and identify
This has been a music video recap by Carles. Carles is a full time student at a high level digital arts graduate program. He is also a Teaching Assistant for Digital Media 101:Lessons in Photoshop, InDesign, and iMovie.
Alternative Celebrity, DJ
Steve Aoki is an AZN DJ.
Read more>>>>
By Carles on 14 Dec 2008
Ever since the Hipster Olympics meme died, I've just been searching for an embeddable video that accurately reflected the current alternative zeitgeist in trendsetting major metropolitan arts communities. Most of the time these videos are made by 'mainstreamers who go to film school who are releasing their inner-angst for not having an authentic personal brand which would give them credibility within their Film Criticism Class.' H8 when these mainstreamers get their mainstream/aging GenXer friends to play 'hipsterz' in these videos.
/// Just want something that I am allowed 2 identify with, bc it 'holds a mirror up 2 me' and reflects who I really am.

XX BONUS MARKETING GIMMICK FROM 2K7 XX
This video reminds me of the glory days of 2k7. Back when masked DJs were a gimmickable gimmick, and the world's ears were hungry for bangers. I haven't even heard a banger in 10 blog years. Will the world still want 2 'party' as hard as the people in this video in 2k9?
Will 'alt celebs' be 'celebs' in 2k9?
Will Uffie pour booze on my passed out, masked body in 2k9?
/// 2k9: Suddenly Every Thing Has Changed
By Carles on 13 Oct 2008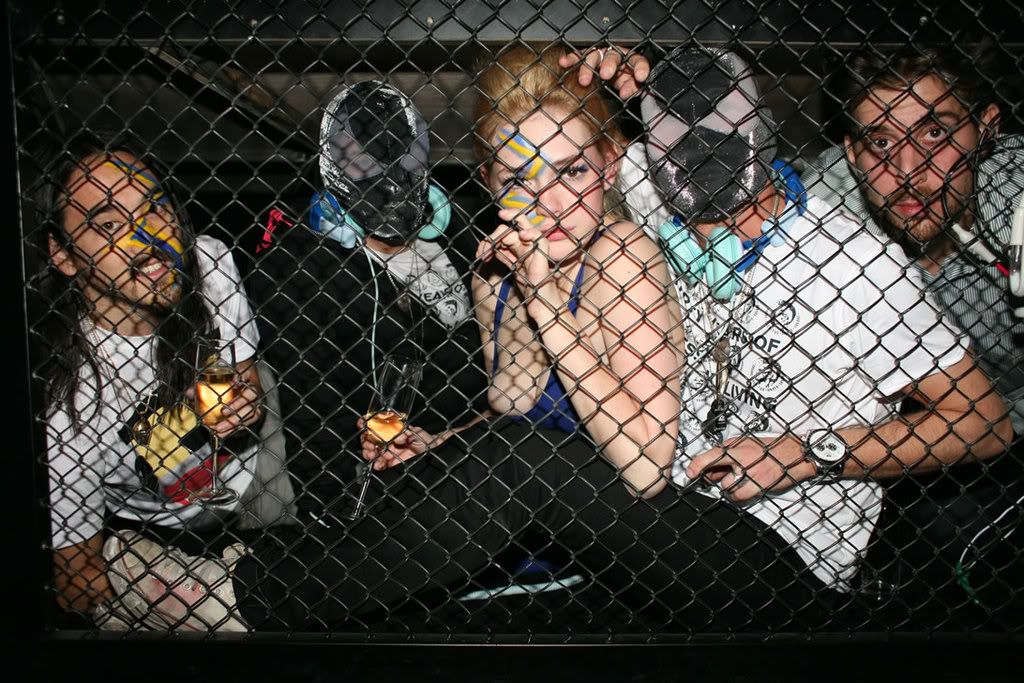 I never thought it would happen to me. I never thought I would become a prisoner of war in one of the first battles of the ElectroWar--the Battle of the Grey Goose River. We were part of an American contingent that allied with the European Electro Coalition (who had rallied around the French after a group of Australis assassinated the Daft Punks).
My name is Stephen. Not my birthname, but my Americanized stage name. This is my story.
Life in the electroPrisonCamp was difficult. We were given one meal a day, which consisted of a SXSWSTRN eggroll and an 8 oz mini can of Bud Light. We were tortured every day. They forced us to give up secrets, particularly about the technology we used to make bangers, and what popular beat matching software existed in our part of the world. They also demanded to know how we 'learned how to make filters that sounded eggzackly like Daft Punk's.'
We quickly learned that the Australian ElectroJihaadists were planning a terrorist attack on a weekly party in Tulsa, Oklahoma. There was no way of letting them know that the worst was yet to come [via hiptop/sent from my iPhone/sent from my AT&T wireless device]. They confiscated our mobile devices and laptops, which were sent to labs to extract data from.
I'll never forget the my best friends in Prison. There was a set of masked DJs and an electroDiva who was prone to nipslips. We did our best to make it from day to day, being held in underwater cages. We were even forced to play Russian roulette against one another. One time one of them died. Was kinda sad, but was kinda happy that it wasn't me.
N e ways, years after the War ended, we were released from the Prison Camp. The people who ran the prison camp were actually not affiliated with the Australian ElectroForces, and just kept their prison camp alive to maintain some form of 'control' over their lives' and others. Kinda sad, but what any trivial ElectroProducer would probably do.
Now we are left 2 find out who we are in a p0st-electroWar world. I am a veteran now. I question the whole direction of my life, and wonder how the horrors of war have changed my outlook on life. I will make a movie about adjusting to post-ElectroWar Life starring Tom Cruise as me.
(I am also in a wheel chair and will grow a CrazyDisgruntledVeteranBeard and become an anti-Electro Music Activist).
[Prison photo by The Prison Photo Snake]
XX BONUS PICTURE XX
Here is how the photo will look after it is run through an aging filter to make it look more authentic/'representative of pain & suffering that is associated with old photos from War.'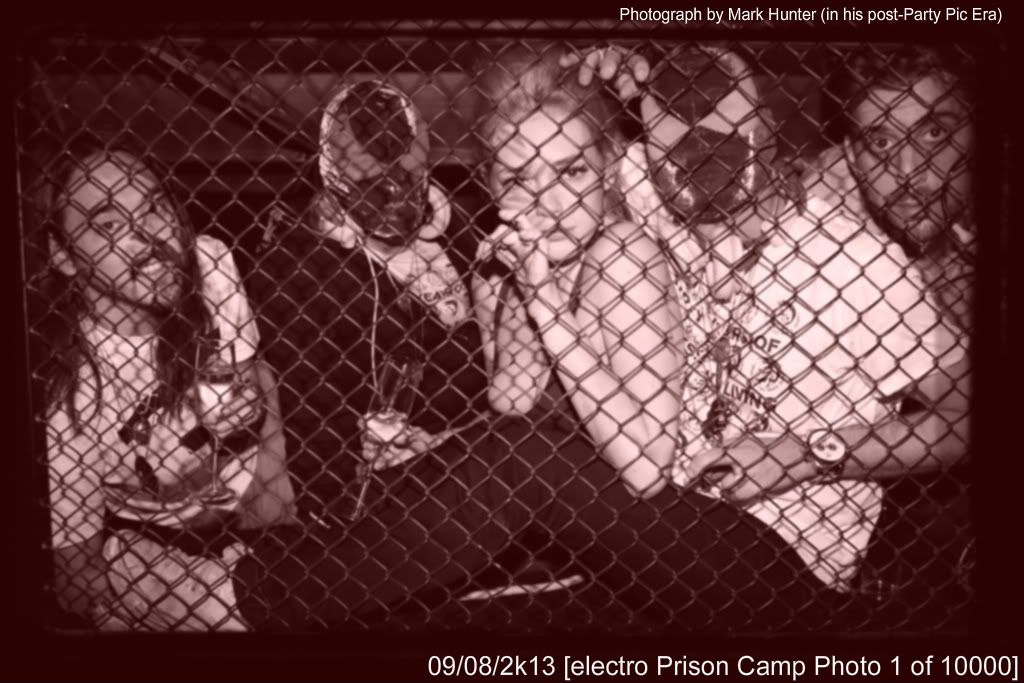 By Carles on 14 Jun 2008
You probably recognize the Bloody Beetroots, once of the most innovative Masked DJ duos in the the modern era of Masked DJs.

I know most people often wonder things like 'Do masked DJs go out in public without their masks?' or 'Do masked DJs have parents/a soul/a digestive tract?'
I just stumbled across these pictures of the Bloody Beetroots who may shed some light on what masked DJs look like when they are not DJing.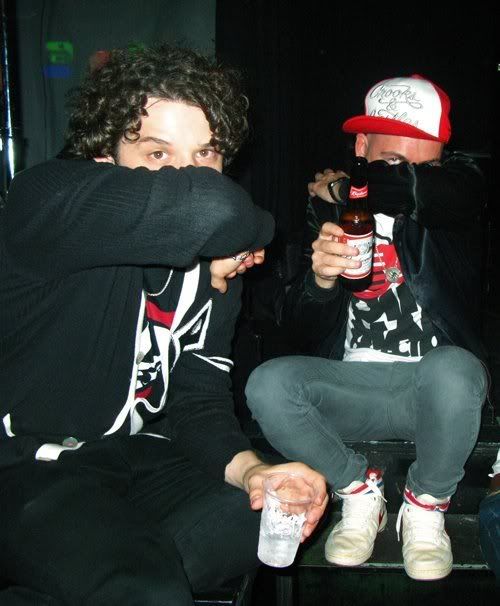 SRSLY though... How much mask is 2 much mask?
When is it time to 'let go' of the gimmick?
Do u think they eat Christmas dinner with their families while wearing masks?
[Photo by AppealToTheEye]
By Carles on 17 Mar 2008

Doesn't seeing the Bloody Beetroots in daylight make you want to have an intervention with them?
Something along the lines of:
"Cmon guys. I know you wear masks and all, but you can take them off this afternoon. They look cool in press photos, and in clubs at night, but you know... Seriously, though. We promise not to stop liking you, or taking your music less seriously, but I just want you to be comfortable. It's kind of warm and sunny outside, and it would just be alright with every one if you took the masks off. Just throwing it out there...but I'm not the CEO of DimMak, so I'm not really an expert on personal branding. Anyways, gotta go. Vampire Weekend is playing a secret show, and they took off their sweaters, but still put them around their shoulders."
[Via OutWithMe.com]
By Carles on 23 Feb 2008
I enjoy the whole DJ/musician thingy as much as the next guy. However, I am mildly uncomfortable with the recent 'MASKED DJ' phenomenon. While you could easily say, "Daft Punk does just fine playing with robot helmets," I think newer acts should avoid getting grandfathered into playing in their masks. Unless you have masks with their own LCD display + internal cooling system, it's hard for me to view the pros as outweighing the cons.
I guess I'm mainly talking about two recent culprits who have really built up their 'WE PLAY IN MASKS' personal brand.
There's HEARTSREVOLUTION, who utilize the WalMart Ski-Mask Model.

And then the Bloody Beetroots, who use their LUCHA LIBRE (Mexican Wrestling) masks.



BURNING QUESTIONS
Do masks enhance a personal brand? Would I have taken Matchbox20 more seriously if they had played in masks? Is there a risk of dehydration and asphyxiation by wearing masks in a club environment? If you were a club owner, would you make these acts sign extensive waiver forms knowing the risks of wearing masks?
Visit the myspaces of the DJ duos who wear masks
http://www.myspace.com/thebloodybeetroots
www.myspace.com/heartsrevolution
By Carles on 27 Nov 2007

I don't know anything about the Bloody Beetroots. They sometimes wear masks while DJing, so maybe the world isn't supposed to know that much about them.
They look pretty cool, though. They sound good. This draft of the track "Butter" sounds pretty solid. Maybe 2008 will be the year of the Bloody Beetroot, because I could kind of hear this song being remixed a lot.
The Bloody Beetroots make bangers that are have more pop appeal than a Justice song.
[MP3]
The Bloody Beetroots Butter (Draft)
MORE PIX of the Bloody Beetroots
In tha studio

Like Daft Punk, without $20,000 masks and a million dollar pyramid

Oh damn they chill with Justice and Fluo Kids? They must mean business.

THE BLOODY BEETROOTS ON MYSPACE
http://www.myspace.com/thebloodybeetroots