U can now stream the new Daft Punk album, is it a 'let down'?
By Carles on 30 Nov 2010

Daft Punk did 'the soundtrack' for the new movie "Tron: Legacy." Apparently u can 'stream' a mix of their new music now. Kinda afraid to listen 2 it. Feel like it is probably 'a huge letdown.' Kinda sad that they haven't been able to recapture the magic of Homework/Discovery.
Have u listened to their new album/the 'leak'?
Did it meet ur expectations, or is it just 'forgettable soundtrack music'?
Does Daft Punk have any alternative credibility left?
Has Daft Punk 'already done enough' 4 'the electro scene', so they can just chill out 4evr now?


Is it still 'kewl' to say that u listen to Daft Punk?
Is TRON gonna 'bomb'?
Is Daft Punk gonna regret being associated with TRON?
Did Daft Punk 'peak' 10 years ago?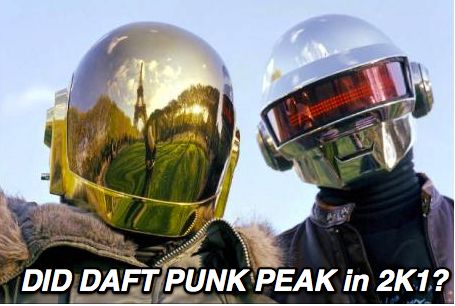 DJ, Buzzband
Daft Punk is a French House band that 'peaked' with discovery.
Read more>>>>