Best Coast continues to h8 HIPSTER RUNOFF, attacks/mocks HRO readership
By Carles on 18 Jul 2010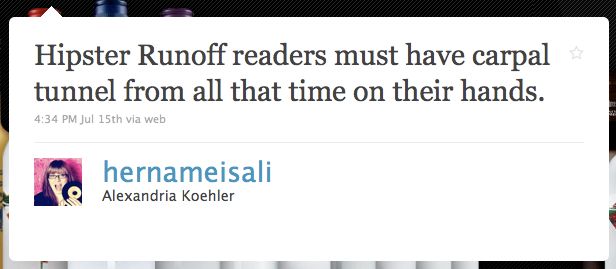 Recently, the fuzzy buzzy buzzband Best Coast 'lashed out' at the popular weblog HIPSTER RUNOFF, telling the blog to 'eat a dick.' [link] Many assumed that the 'fight was over', but things seem to have 'severely escalated' now that Best Coast drummer Alexandria Koehler has accused the HRO readership and commenting community of 'acquiring carpal tunnel syndrome' from having too much 'time on their hands.'
Alexandria Koehler is the former drummer of the buzzband Vivian Girls. It seems like Best Coast has a larger commercial opportunity + possibly 'makes better music', so she defected from the former buzzband to the new hit summer buzzband. While the ALT REPORT credits her for making a wise career move, many purists of the beach fuzz genre think she should have 'pledged loyalty to her former band', similar to the situation with LeBron James in Cleveland.
Does n e 1 know if Best Coast is just 1 girl, or an entire band? Confused.
Just want to listen to their music and vibe out instead of thinking about how they h8 me.
It seems difficult to decipher Best Coast's slander of HIPSTER RUNOFF's readers + commenters.
Carpal Tunnel seems to be some sort of 'syndrome' /'nerve disorder' that u acquire from performing a repetitive motion. Not sure if she meant that HRO readers were mouse clickers and/or 'losers who type comments out on the internet' 2 much. Or maybe she meant that they spent all day stroking their erect shafts, losers living at home with their parents, masturbating all day as they listened to buzzbands and watched hardcore pornography.
Do yall know what she meant?
Is the Best Coast album the 'summer album' of 2k10?
Are yall sad that Best Coast h8s HIPSTER RUNOFF?
Should Carles of HIPSTER RUNOFF 'extend an olive branch', taking 'the high road' in this blog fight?
Do u wish we could just ride chillwaves again?
Is the fuzzy buzzy genre getting out of hand?
Is the blogosphere about 2 die?
Is WAVVES chill with HIPSTER RUNOFF?
Do u have carpal tunnel syndrome?
Buzzband
Best Coast is a fuzzy buzzy band that sings abt dank, California, boys, and kitty cats
Read more>>>>