BEST COAST releases new mp3 lovefest about her boyfriend WAVVES
By Carles on 29 Jun 2010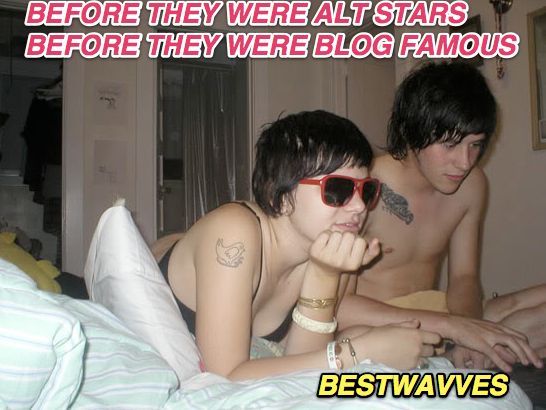 [MP3]
Best Coast Boyfriend
Most of Best Coast (aka Bethany Cosentino)'s songs are about the beach, weed, waves, or Wavves, her boyfriend. This new song is called "Boyfriend", and we can only assume that it was written about her boyfriend and how much she depends upon her 'man.'
After WAVVES's song "Post-Acid" [link], we have to start to wonder about how limited their song writing abilities are. We understand they are in love, and have a perfect buzzband life together, but at some point they gotta 'branch out' and write songs about other stuff, sorta like how AnCo can write about weirdo stuff, then they can write about taking care of their families. Bruce Springsteen can write anthems of the common man. The Arcade Fire write suburban anthems about childhood. Other buzzbands can write songs about "Deadbeat Summers" and "Feeling it All around", with various bleepy bloop musical stylings.
Wish I coulda chilled with them before they were alt stars.


Feel like the song "Boyfriend" really puts me into the mindset of an insecure girl who just wants a boyfriend. Glad Best Coast found her dream man. However, I feel like Best Coast and WAVVES should probably break up just to get more press for their next album cycle.
Do yall like this song?
Is "Boyfriend" too literal?
Do u think she played this song for WAVVES the first time, and he kinda cried, then they went out 4 burritos?
Do yall respect Best Coast for accepting the fact that she is 'nothing' without a boyfriend to enable her 2 have a bloggable identity?
Will Best Coast's album be more well-liked than WAVVES's album? Is it because she is a woman, and the blogosphere is made up of jealous bros who would love to date a hot buzzband girl?
Do u wish Wavves was her boyfriend?
Do yall wish they would sing about more different-er stuff, or do u like the simplicity of their California style lives'?
If I move to California, will my life be perfect?
If I learn to California, will my fuzzy buzzy sound project 'take off'?
Are yall jealous of their relationship?
Buzzband
Best Coast is a fuzzy buzzy band that sings abt dank, California, boys, and kitty cats
Read more>>>>