Twilight gets gay porn parody called "Twinklight."
By Carles on 24 May 2010
Twilight is one of the most successful tween movie franchises in the history of mankind. The story is about some girl who is in a love triangle with some Vampires and Some Wolf Bro. It seems like this plotline lends itself well to TWINKLIGHT: the new porn parody of the Twilight series. Sorta wanna 'experiment with my sexuality', and get into some really dark vampire kinda vibes, then turn ghey, then 'blow my load' while watching these twinks.
R u a homosexual?
R u a vampire?
Do u like fake blood?
Do u like fangs on your penis when it is erect?
Really unsure if this is supposed to appeal to Twilight Fans (who are typically teenage girls) or if it is just supposed to be aimed at hornie gay bros who wanna have this on in the background of their local gay bar.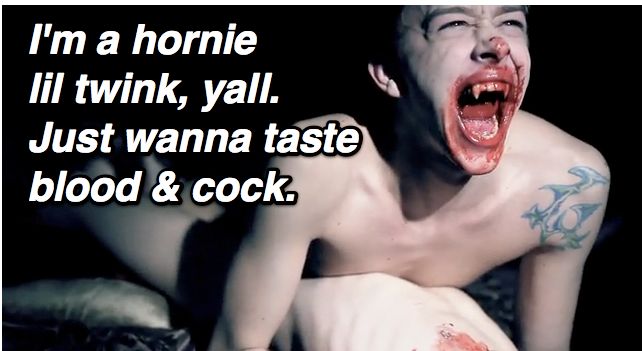 The characters seem to have 'really good vibes.' They seem like great actors, but also like 'you can pound their lil butt holes and treat them like slaves', which I have read is the most appealing part of a twink.

Glad they have a wolf bro.

Really hope they have this DVD at my local redbox.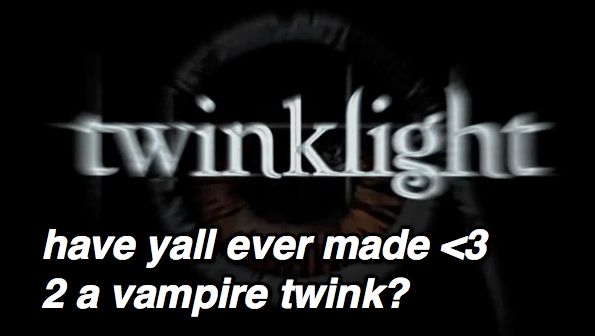 Did Twinklight 'get u hard/hornie'?
Is 'gay porn' a more lucrative industry than 'straight porn'?
Would you make love to 'Bella' if she was a twink?
Will the Twilight community of tweenage girls be into this product?
Will Twinklight have an indie soundtrack featuring some of the best homosexual indie artists?