Crazy Harp Lady Joanna Newsom returns from dead, plays live on some British talk show
By Carles on 05 May 2010
I remember when the ALT REPORT used to have a 'thick wave' of Joanna Newsom coverage. Her album was really hyped & respected, plus she was marketed as a post-Zooey Deschanel hot alt celeb who had a unique talent. Wonder if people are still into her, or if she has 'faded into irrelevancy.' Wonder if she will 'actually try to cross over' next album or if she will make another 2 hour snoozefest that has no commercial appeal to the post-Feist marketplace.
Does n e 1 know what Jools Holland is? Is the the British Jimmy Fallon / Conan O'Brien / Jay Leno / Craig Ferguson? Still don't really 'get' British television + music. Seems like they are into weird stuff, like Susan Boyle, the Kings of Leon, and The Office.
Miss u JoJo. U seem so alone. Plz cheer up. Maybe u can rebound. Maybe not. Not gonna make any promises that the bloggiasphere can't keep.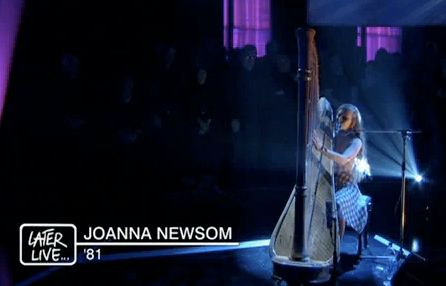 Will Joanna Newsom's career 'rebound' from 2k10?
Will this album even 'crack the top 20' of 2k10's Best Albums Ever of the Year Lists?
Is Joanna Newsome 'just fine'?
Is Joanna Newsom the female version of MGMT?
Do u miss Joanna Newsom, or do u prefer Zooey Deschanel coverage?
Alternative Celebrity
Joanna Newsom is some indie songstress who plays the harp and writes weirdo songs that some ppl say are 'amazing.'
Read more>>>>