Meme Diagram: The Evolution from Hipster to Hippie
By Carles on 04 May 2010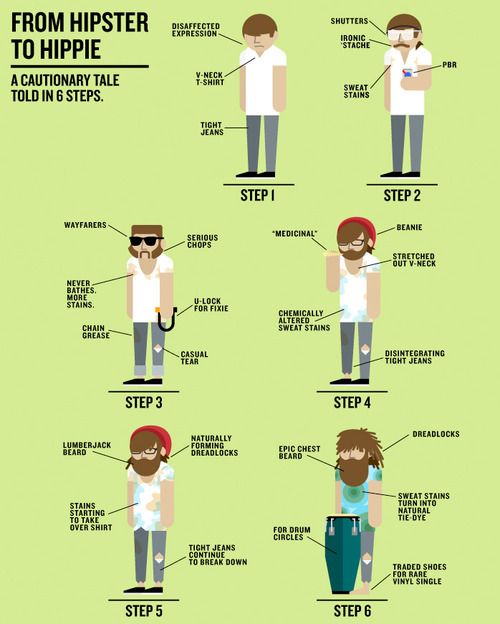 Some blogger in San Fransisco made a 'visually delightful' image / meme about how certain bros evolve from hipster to hippie. I am not sure if I really 'endorse' this meme, since it seems pretty simple, but I figured I should 'get in on the traffic' it is probably going to generate some 'hipster bashing' hits as mainstreamers 'share' this image, and 'lol' about bros who they know who grew scruffy beards to try to be post-hipster personal brands.
I went to the website that was linked, and it seemed like some person who was trying to 'find social meaning' but it was difficult cuz 'so many ppl were so hollow' or something.
R u a 'hipster' or a 'hippie'?
Do u like people who 'share hipster links'?
Do u like to 'laugh at effing hipsters'?
Is there anything to laugh at in this meme, like some sort of whimsical truth that we can acknowledge and laugh about?
Is this a high level design meme, or some low level Adobe Illustrator vector graphics?
Could there have been more numbers / statistics involved to make this an official infographic?
Do bros in San Francisco 'get all confused' about what their brand is about?
Do all 'hipsters' devolve to 'hippies' or are they just 'the rich kids who don't have to get real jobs'?
Does n e 1 who generates 'hipster commentary' memes deserve an automatic book deal?