Martin Luther King Day
By Carles on 19 Jan 2009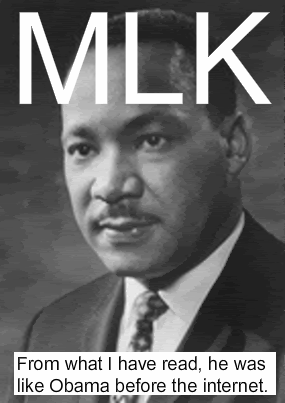 Happy Martin Luther King Day, yall (to all yall blipsters and non-blips). I had a great day off and spent some time using wifi in Central Park. It was kinda meaningful, but my battery eventually died and I 'got a lil depressed' about how wireless internet is 'forever' but battery power is not 'forever.' Hope Apple solves this problem in the next Macbook.
Moving forward, I just wanted to talk about what a great guy MLK was. He seemed like a pretty passionate bro. Think he learned about viral marketing/community organizing/political activism from Gandhi. Unfortunately, these tactics would not work in the modern world. U have to be able to 'use the internet' 2 convey 'what ur all about' by building websites/socialnetworks/twitters/other gimmick web communication services.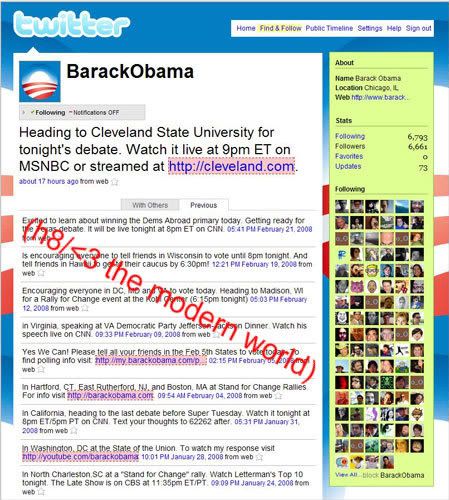 I sort of wonder if Barry Obama 'could have made it' before the internet existed to proliferate memes. I'm just saying, yall. MLK JR is a true bro. Not sure if Obama will be able to go from 'being a viral meme' to actually 'leading a nation.' If yall think about it, it would kind of be like electing Tay Zonday 2 office. U need to be more than just an 'internet celebrity' to lead our world. There's more to life than Choco Rain Peanut Butt Jelly Time vlog candy vimeo youtube memes.
Sorry 2 get political on yall, just want u 2 realize that the internet has changed the way that we consume the world. Hope that our 'economy' gets better. What do yall HOPE 4?
SPARKS?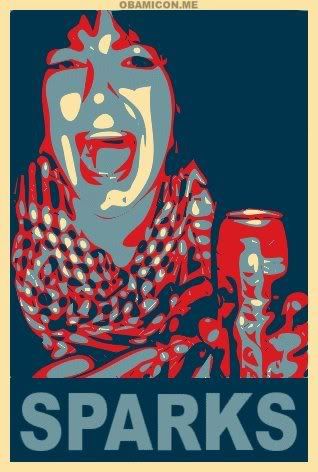 or OBAMMY?


Should we still be 'hoping' now that the campaign is over, or do we still need 2 'hope'? Just wondering. Kinda confused. :-(
I "feel stupid." - an insecure person
************************
HIPSTER RUNOFF SATELLITE RADIO SHOW
************************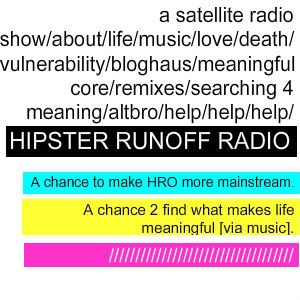 The HIPSTER RUNOFF radio show airs Mondays at noon and again at midnight EST on Sirius XMU. Iff you're an XM subscriber, you can listen to Blog Radio on channel 43, and Sirius subscribers can still find us on channel 26. If u really want 2 hear Carles Show, u can get a 3 day trial membership.
PLAYLIST AFTER THE JUMP
Digitalism - Pogo (Shinichi Osawa Remix)
Phoenix - Too Young
The Golden Filter - Solid Gold
Interpol - Untitled
M83 - Graveyard Girl
MGMT - Electric Feel
Lil Wayne - Mrs. Officer (Party Time 2000 Remix) [MP3]
Kings of Leon - Knocked Up (Lykke Li vs Rodeo Remix)
Kings of Convenience - Stay Out of Trouble
Animal Collective - Guys Eyes
An Co - Bro Sport
Bag Raiders - Shooting Stars
Cut Copy - Strangers in the Wind
Electrelane - To the East
The Embassy - Some Indulgence
Ercola Ft Annie - Follow Me (Lifelike Remix)
Friendly Fires - Paris
The Whitest Boy Alive - Golden Cage - Fred Falke Remix)
Glass Candy - Etheric Device
Peter Bjorn and John - The Young Folkses
Panthers - Goblin City (Holy Ghost! Disco Dub)
Tao Lin - sometimes I feel like another person is 'insane' [MP3]
Tao Lin - i gave energy drinks to homeless people
The Presets - This Boy's In Love (Lifelike Remix)
LAATERS