MGMT (HOLY GHOST! RMX)
By Carles on 02 Oct 2008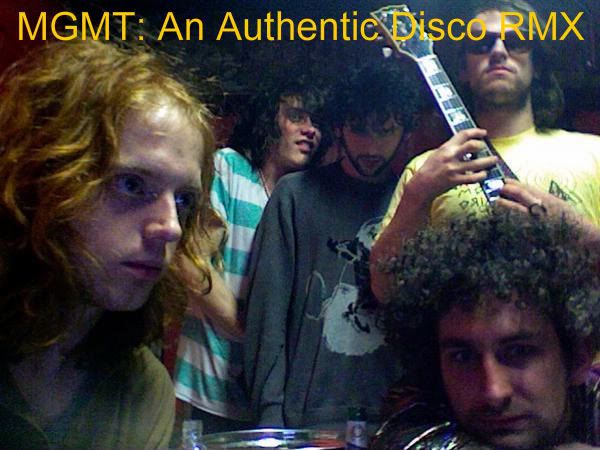 I haven't heard that many original MGMT songs beyond "Kids", "Electric Feel" and "Time To Pretend." Those songs are like 1000 blog years old, so it's pretty indicative of their mainstream success that they are getting rmxes by big remixers long-after the initial album buzz. I have heard the Justice & Soulwax remixes of their songs, which were generally underwhelming (sorry--maybe just a lil bit too conceptual 4 me).
However, I think the authentic-disco-remix-aesthetic does a great job of enhancing their song "Of Moons Birds and Monsters." While MGMT's 'psychedelic'/retro/southern-rock/however-they-have-been-marketed aesthetic has sort of led me to believe that they are sort of like 'the new Of Montreal' where you don't understand why they are GOOD, but a lot of people would tell you that they are GOOD/lots of people get over-excited about their concert/they eventually become a Top 10 'indie' band that music festivals MUST HAVE.
n e ways I like this RMX. <3 HOLY GHOST! <3 Are they the new MSTRKRFT cuz they can 'fix' n e song?
[MP3]
MGMT - Of Moons Birds and Monsters (Holy Ghost! Remix) [mediafire]
Heisted from these Blogs
http://untzuntzbergen.blogspot.com/2008/10/exclusive-mgmt-of-moons-birds-and.html
http://discoattack.blogspot.com/2008/10/mgmt-holy-ghost.html
Myspace
http://www.myspace.com/holyghostnyc
http://www.myspace.com/mgmt