Alternative Business
By Carles on 05 Apr 2010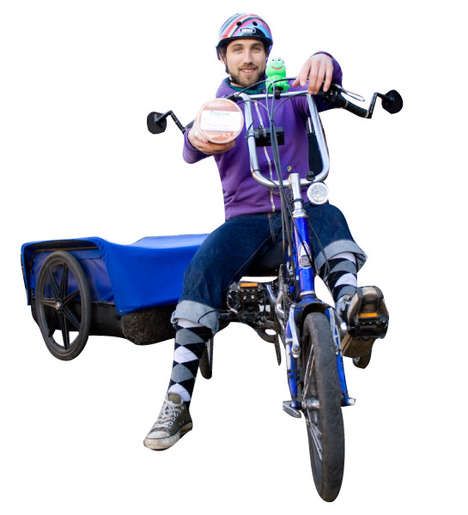 Just found out about these two Portland organic granola core alts who deliver soup on their bicycle. I am not sure why this is a meme-worthy business, but it probably helps Portland's brand as a place where people who care about health + the Earth live. Wonder if Portland seems like a cool place to live. Wonder if there are SoupCycle services for every type of food.
Do u want 2 try some organic soup? We have a really low carbon footprint. We only use ingredients from local farms.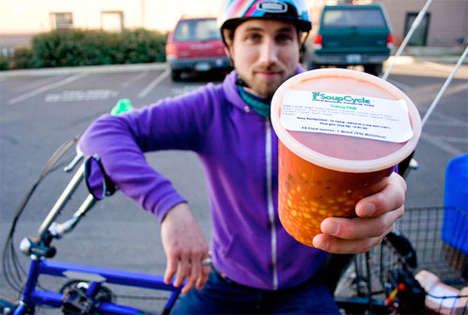 Jed Lazar and Shauna Lambert make organic soup in Portland, Oregon then deliver it via bicycle to patrons within their downtown service area. Their company, SoupCycle, uses locally sourced produce to make hearty soup-based meals that are sold via subscription through their website.

Environmental sustainability and socially responsible practices are at the heart of the food service's subscription soup deliveries. Bicycle delivery has saved over 3,000 car miles and put more than $33,000 into the local farm economy.
Feel like I still would rather get Pizza Hut / Papa John's / Domino's delivered to me by some stoner who drives a car.
Would u ever live in Portland, or does it seem like 'hell'?
Should I start a 'green' business in suburbia, or would people fail to realize why my business was marketable?
Do u think some1 should invest in this brand and turn it into a global corporation?
Would it be more authentic if the delivery bros rode fixed gear bicycles?
Sorta wish this cooler was filled with Capri Suns, Sunny Delights, and sodas. Want to reconnect with my childhood filled with high fructose corn syrup.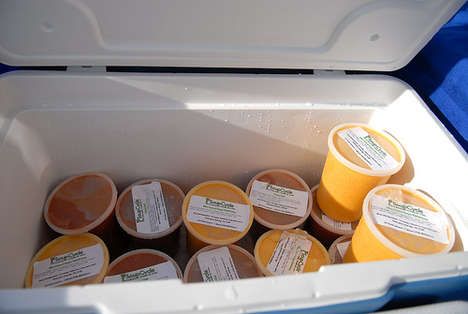 Zooming past cars
on my bike
delivering organic soup
h8 u pizza + sushi delivery cars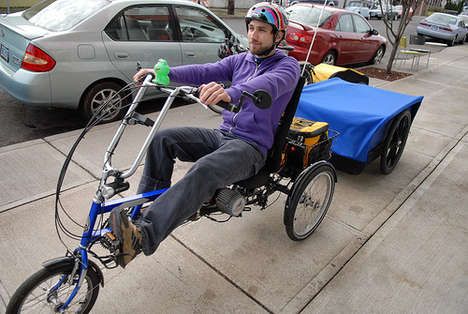 Is this the future of alternative business?
Is Portland a great place for organic / green entrepreneurs?
Does Portland seem like a place where a Chili's franchise would fail?
Will America die from diabetes?
Do u think their soup is high in sodium?
Will Obama's new healthcare plan help us to get diabetes, but give us more money to pay for dialysis + prescription drugs?
Who has the best online ordering portal: Domino's, Pizza Hut, or Papa Johns?


do u like soup? do u like Portland? do u like organic food or is it 2 expensive?
By Carles on 02 Apr 2010
American Apparel liquidates excess inventory of unwanted styles and sizes at branded rummage sales and flea markets. Many Am Appy fans / buyers go to these sales looking for 'good deals' but end up scavenging like animals for a few scraps of decent clothing.
At a 'Rummage Sale' in London, several thousand alts got 'shafted' because a riot broke out. I am not sure if this was really a 'riot' but maybe just a bunch of cranky people, a few bros going crazy, riot squad beating up a few people, then a bunch of other alts tweeting + youtubing it. Do u think they were 'pissed off' about not getting sweet deals?
2 many alts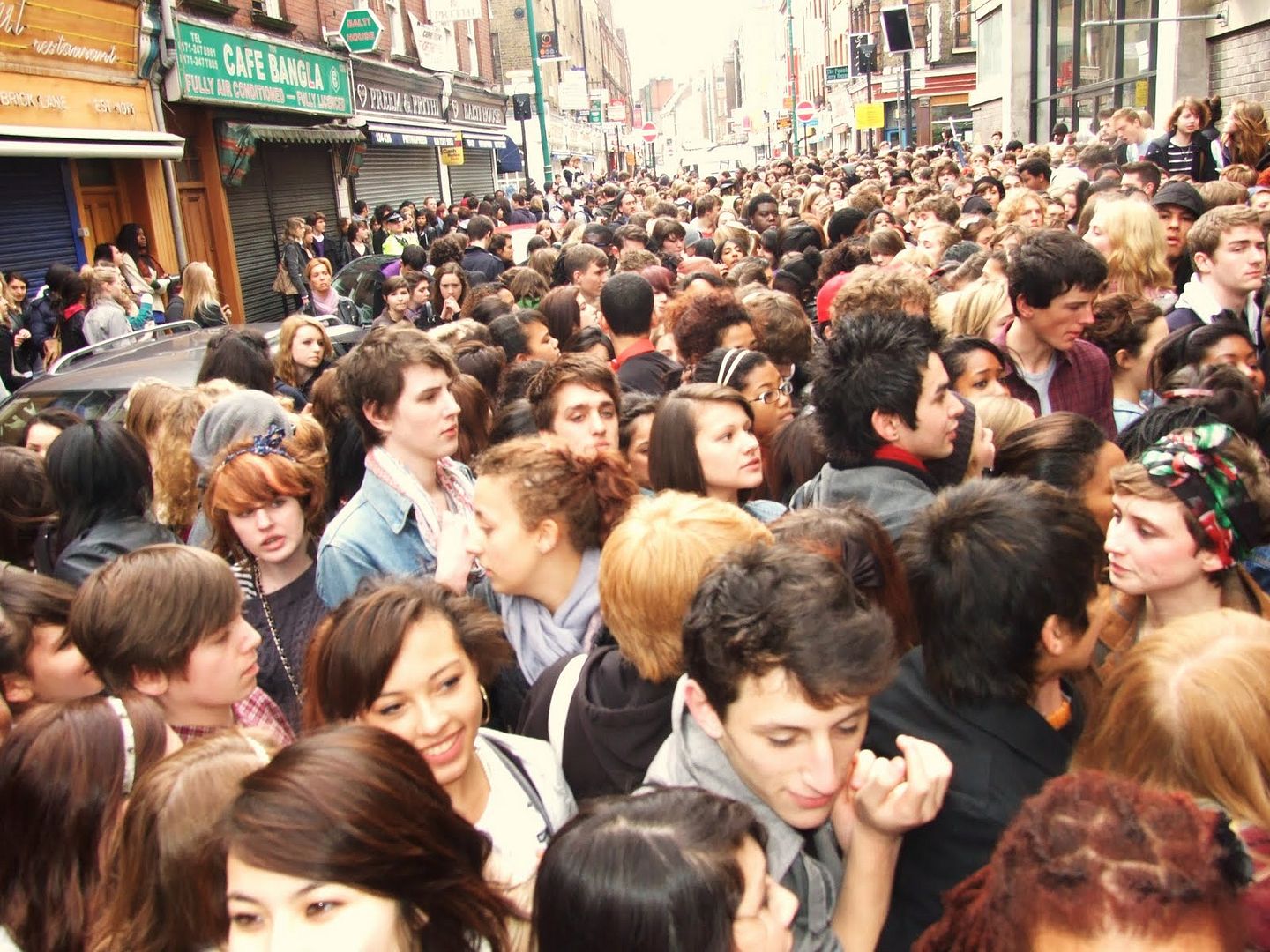 not enough deals / capacity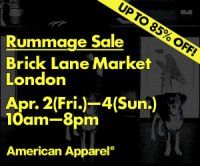 From the event facebook page:
!!!!!!!!!WE'VE BEEN TEMPORARILY SHUT DOWN BY THE POLICE. We're trying to get this reopened for you as soon as possible. Stayed tuned to this page or Twitter for updates. They are concerned about the crowd outside the venue for the time being so if you can disperse, please do. Thank you. We know you're excited and won't let you down!!!!!!!!!

Update II: AALNDN10 gets you 15% off our UK webstore for the next 10 days! (redeem code at checkout) We're figuring this out. Thank you for your patience so far.

UPDATE III: The police have closed our London Rummage Sale for today to ensure everyone's safety. We're doing all we can to stay open for the wknd and will let you know. To everyone who has waited so patiently: Please Take 25% OFF anything in our UK site (use code LNDNRMG25) or print this for 25% off at our UK retail shops... (exp 1 wk, not valid w/ other offers). We're going to make this up to everyone. Thank you!
Was this a 'real riot'?
Are 'hipsters' from the United Kingdom more violent than American alts?
Do u think they were pissed because they still felt like the clothes were still 'overpriced'?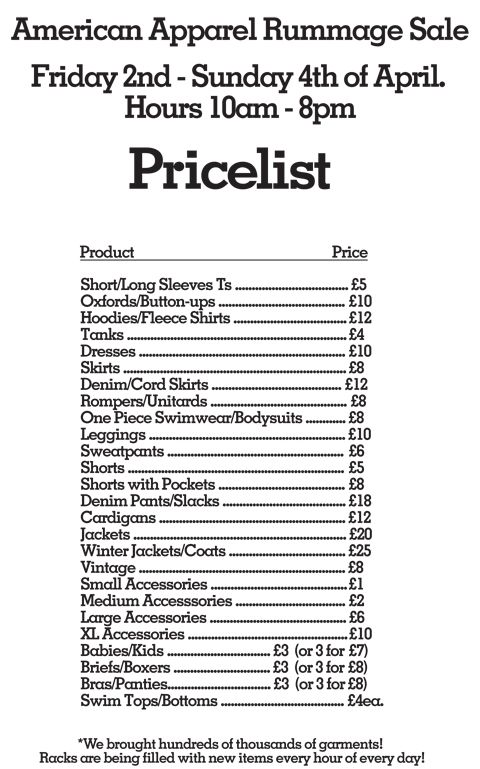 Is London a hot bed of alternative angst?
Do cops / mainstreamers 'get' why an Am Appy Rummage sale is a great opportunity to get great clothes on the cheap?
Should I have made this headline "Hipsters riot over American Apparel in London" for more hits?
Did American Apparel 'stage' this for marketing purposes?
By Carles on 30 Mar 2010
The Price is Right is a popular game show that unemployed moms and old ladies watch every day. The show is basically a long advertisement, and people just guess how much stuff is worth in order to win prizes. The show will most likely die when Gen Xers begin to pass away.
Video Description: One lucky Price is Right contestant is offered the chance to win $1500 American Apparel gift certificate.
American Apparel was utilized as a 'prize' giveaway during the Price is Right. This might mean that Am Appy is trying to reach grand parents and old people, letting them know that their brand is real / dependable. Maybe they just want to inspire old people to buy gift cards for their teens.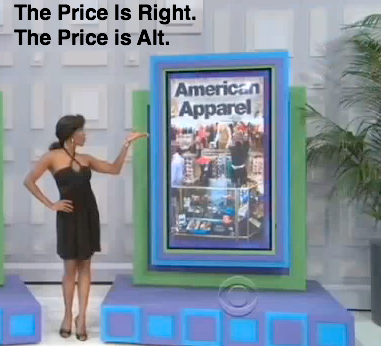 Did American Apparel reach a new market with the Price is Right segment?
If you were an old person, would Am Appy appeal 2 u?
Is American Apparel 'crossing over'?
Does it cost money to get ur product placed on the Price is Right?
Do u wish u could win an Am Appy gift certificate from this show, or would u rather have the best bottom in the world?
Do u wish u were on the Price is Right so u could guess how much kitchen appliances were worth?
By Carles on 30 Mar 2010

Chili's is going to spend $100 million upgrading their kitchens across the USA. It seems like they want to 'take their chain restaurant' to the next level.
Brinker International Inc. will spend $100 million to improve the kitchen technology at its Chili's Grill & Bar chain, one of several "transformational changes we are going to make to our business," chief executive Doug Brooks said Friday.
Wonder if they are going to give their waiters bluetooth iPhones to make the ordering system faster / more 'tech savvy.'
Did u know that Chili's owns Maggiano Italian Restaurant and On The Border Mexican Restaurant? I thought those were little local mom & pop restaurants. Feel sad.
Do u think the new technology will help Chili's taste better?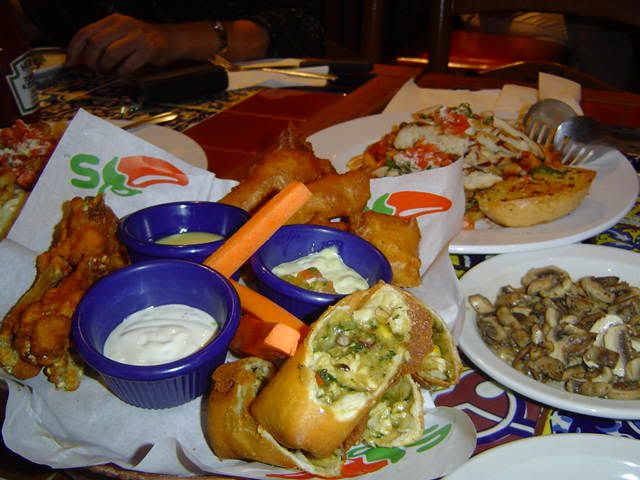 Basically, they need to make sure their customers are served faster in order to compete with other burrito and sandwich chains.
The $100 million kitchen fix, spread out over at least three years, is designed to shorten the time it takes to serve hungry diners. The investment includes high-speed cooking equipment that can shave five minutes off the time between when an order is received and when it's served – a key advantage as the casual dining industry tries to compete with faster upstarts such as Panera Bread and Chipotle.
Wonder if Panera Bread is the new Chili's. Seems like they probably get 'high margins' on sweet breads, pastries, and bagels.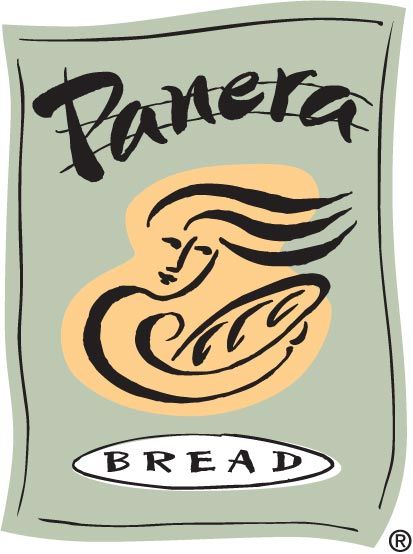 Will Chili's make more money?
Can chili's stay alive?
Is Chili's bad for America?
Is Chili's where people go to die?
Will the Chili's brand be 'revitalized' or will it just continue to serve shitty high sodium + fat foods?
What's ur fave food at Chili's?
By Carles on 30 Mar 2010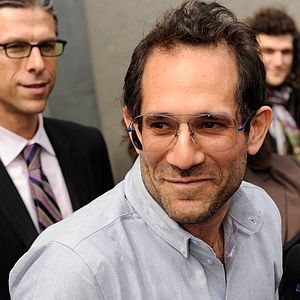 Recently, there has been a 'new wave' of articles after American Apparel released their quarterly financial earnings about how the company is in 'serious trouble.' Not sure if I am supposed to believe this. Still see people + tweens all over the place wearing Am Appy, so I find it kinda hard 2 believe. It seems difficult to imagine that any business would ever die, but maybe it would be kinda cool if Am Appy died, then I would have a bunch of 'rare'/'vintage' clothes.
It certainly didn't help Charney's mood when, on Friday, the racy retail chain's shares plunged 17 percent after the New York-based concern reported its fourth-quarter profits had dropped a jaw-dropping 23 percent. While soaring costs and anemic sales sapped profits, investors were likewise rattled as the company delayed giving an outlook for 2010, citing restrictions imposed on its operations by lenders.
Wish I understood 'business' so I knew how to make a bunch of money in the stock market investing in my fave companies. Apple, Am Appy, Urban Outfitters, IKEA, McDonalds, Chili's, snuggies...all my fave brands.
Seems like they are trying to say that the company was productive since it had some sweet Mexis working 'on the cheap':
"The reduction in manufacturing efficiency was principally a result of the forced termination of over 1,500 experienced manufacturing employees in the third and fourth quarters of 2009 following the completion of the previously-disclosed I-9 inspection by US Immigration and Customs Enforcement," Charney's battered company said in a statement last week.

It's a bitter irony for Charney, who has long portrayed himself as a champion of foreign workers' rights.
Is American Apparel 'in the shitter'?
Are all companies 'going thru a tuff time right now' [via the recession]?
Is it 'alt' to write Am Appy articles just to mention 'sexual harassment'?
Do u have any business ideas to save Am Appy?
Will u be sad if Am Appy dies?
Does n e 1 know how 'the stock market' works?
By Carles on 29 Mar 2010
H&M is a popular retailer with a moderately alternative reach. Many people describe it as American Apparel meets the Gap meets Forever 21 meets ___________. It seems like they are trying to re-brand to be 'cool with the kids + tweens', as opposed to being a place where you go to get cheap shit that looks okay/neutral.
It seems like they got a bunch of tweens to do some sort of flash mob in order to promote their brand. I wonder if it cost a lot of money to hire these tweens, or if it was a bunch of those types of tweens who think their kids should be models / actors / singers / dancers / etc. Always seems like a good idea to hire some teens/tweens who are down to work 'on the cheap' in hopes of creating a better life.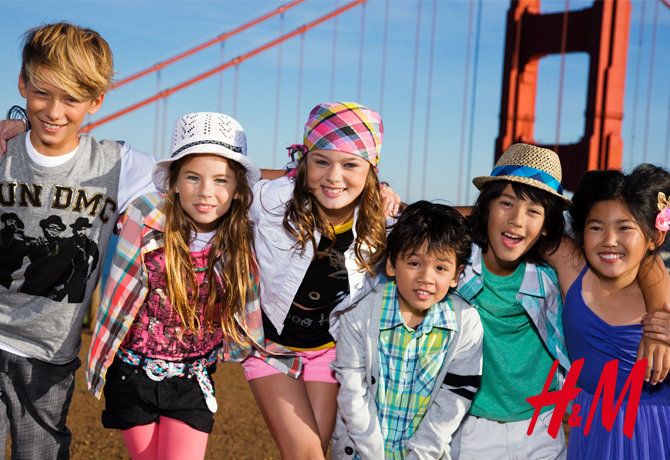 Seems 'weak'
55 stylish kids surprise the public at Union Square in San Francisco with a hip hop dance battle that showcases the latest H&M Kids fashion.
Alt tweens doing grown up things. Riding public transportation, wearing scarves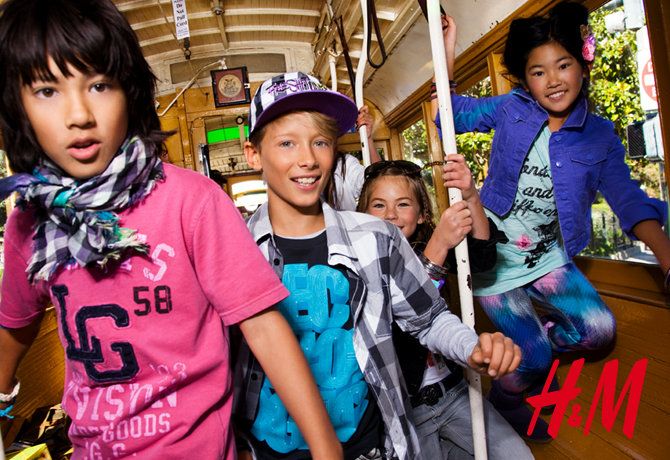 Every1 is free to live life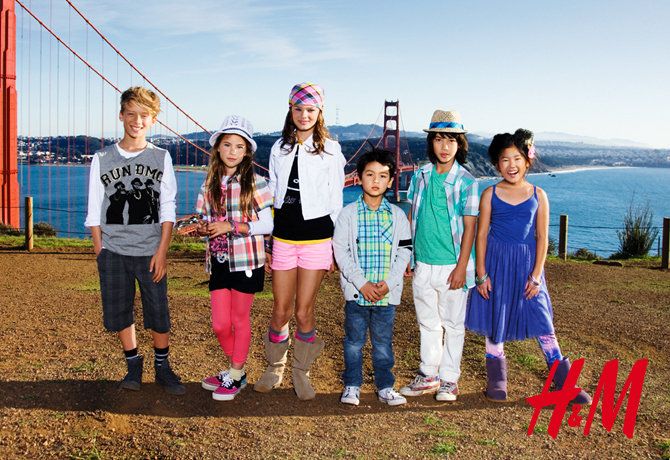 Altbaguettes keep getting younger and younger.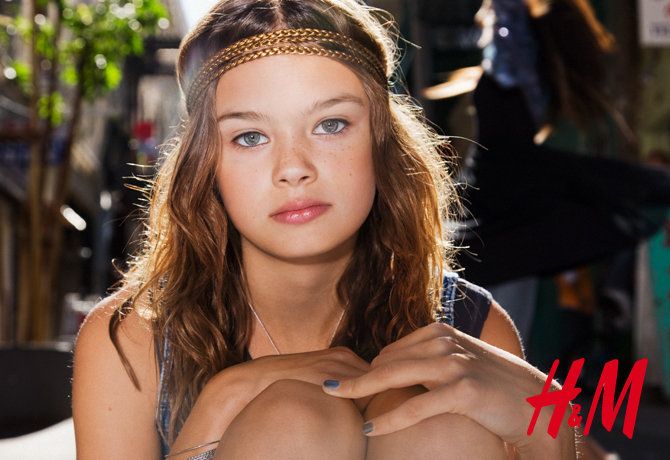 Are flash mobs still a legitimate way to create 'viral buzz' for your brand, or should the creative executives who orchestrated this campaign be 'fired' for using a buzzworthy idea from 2-4 years ago?
Will u take ur tween son or daughter to shop at H&M, or will they prefer to shop at WalMart since Miley Cyrus' fashion line is carried there?
Do flash mobs really 'count' when it is just a group of parents huddled around, watching their kids perform?
Do u shop at H&M?
What is your perception of the H&M brand?
Is H&M alt and/or authentic?
By Carles on 11 Mar 2010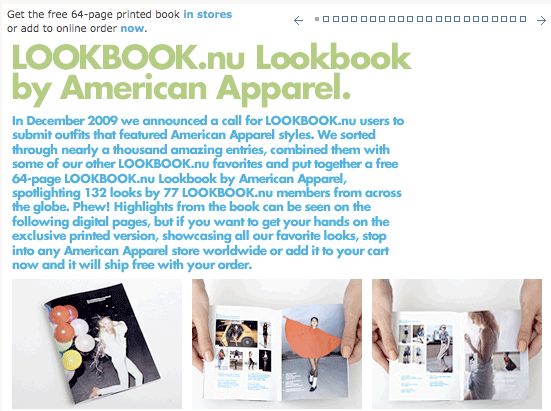 Lookbook.nu is a popular website where alternative teens, tweens, and unemployed 20 year olds who still want to break into the fashion industry but just end up taking pictures of themselves in their parents backyard congregate to compare modern fashion. The site promotes the idea that 'every1 can be a model', 'every1 can work in fashion' and 'every1 can be a photographer as long as they have a decent camera + a few photoshop effects.' American Apparel seems to have had some contest where lookbook users fought for the opportunity to be featured in a magazine. Utilizing this free labor + the chance to come to Am Appy HQ in Los Angeles for an exclusive photo shoot.
Wonder if this exploited every alt's dream to be an Am Appy model, kinda like the Best Butt Content.
Lookbook seems to be a place that discourages retail consumerism, since so many users on the site create their own looks in regional thrift stores. American Apparel is probably trying to prove to lookbook users that they can utilize their products in an authentic way, instead of fighting for second hand thrift store garbage/discounted premium brand apparel.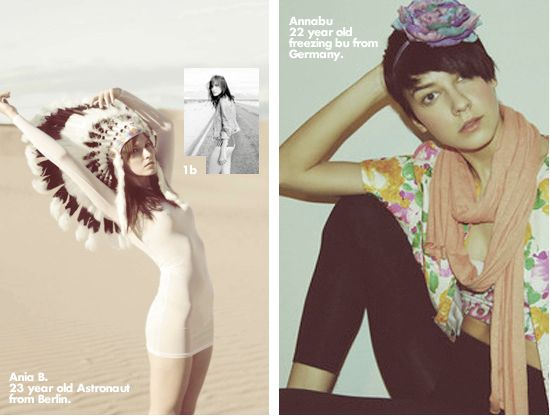 Wonder if this was a good way to get 'cheap labor' from alternative teens who thought this would elevate their modeling career.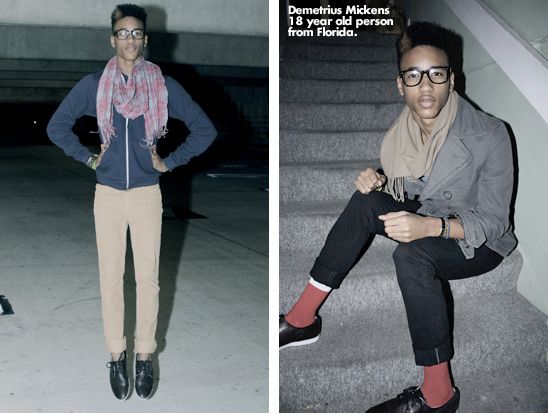 Is lookbook the perfect alt social networking community?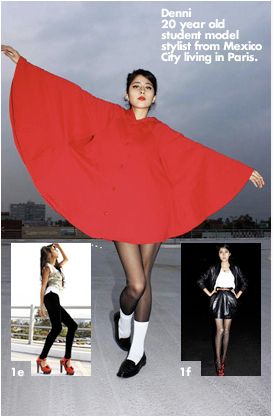 Is this free lookbook going to turn into 'hipster porn' for Gen X alt men?
Did Am Appy exploit these teens, or is this 'the highlight of their young alternative lives'?
If u had a lookbook, what kind of clothes would u wear to promote your brand and get 'hyped'?
Does n e 1 know of any documented cases where lookbook accounts led to a modeling career?
Is American Apparel the #1 internet marketer in the history of the internet?
By Carles on 03 Mar 2010

The popular ass "boom boom" from Santo Domingo has won American Apparel's best bottom competition. She will soon be flown to Los Angeles, home of the Am Appy HQ business campus, where she will participate in an exclusive photo shoot. Do yall think she deserved to win, or is her ass 'overrated'?
Is this the greatest marketing experiment in the history of gimmick internet marketing utilizing soft porn?
Is Am Appy 'revolutionary' or are they exploiting women?
These are the top 5 butts:
#1 boom boom from Santo Domingo #2 Maria from Austin

#3 Mira from Chicago #4 Stepho from Los Angeles #5 DONK from Van City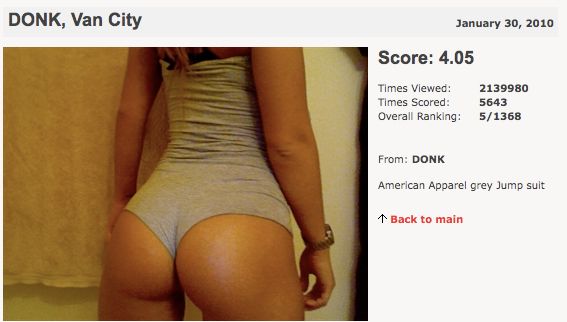 Do yall think that the correct ass won?
Do the top 10 butts deserve more than a goodie bag worth $300?
Is Am Appy the future of marketing?
Should they have a 'wet tshirt contest' as their next voting gimmick?
Maybe something abt the perfect alternative breasts?
R u turned on or disgusted?
By Carles on 01 Mar 2010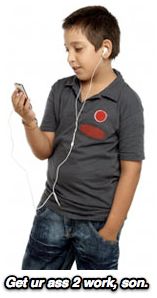 Apple has confirmed that they hired AZN teens + tweens to craft their iPods. Unfortunately, they only had 15 teen workers on the books, but the company probably could have had better margins for last quarter if the had paid teen workers with iPhones and iPod touches pre-loaded with 'App Store' gift certificates.
I am not sure if this is a 'bad thing', since teens love to get summer jobs in America. I feel like tons of teens would love the opportunity to make iPods + iPhones.
Basic information:
Parts of your iPod or iPhone could have been manufactured by a child.

At least eleven 15-year-old kids were working in three factories that supply Apple, according to the Telegraph.

Apple, which has factories in the Philippines, Malaysia, Thailand, the Czech Republic, the United States, Taiwan and Singapore, would not release information about the specific factories using child labor. It did, however, say that it no longer employs children in its factories.
Do yall respect Apple for employing children? Do yall feel sad that the hands of children were used 2 make iPods instead of playing with them / sexting with them?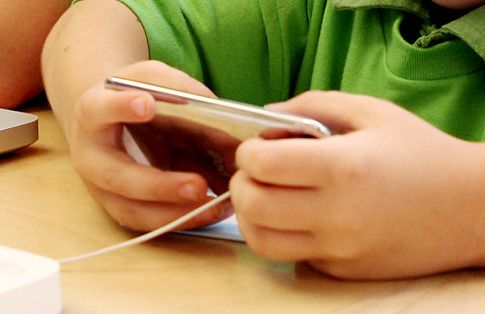 Should I get a vintage Macbook Air or an iPad?
Do yall think that Apple 'enslaves' people when they work at an Apple Store? What's the difference between labor, child labor, slavery, and indentured servitude?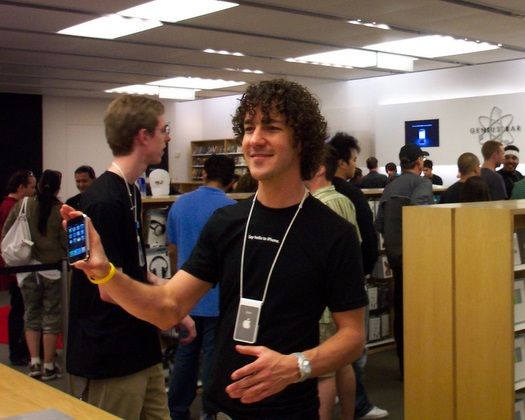 Should we make more children work if they aren't going to do anything productive within society when they grow up?
Should we organize some sort of 'protest' outside of an Apple Store?
Should we pay American teens to make iPods instead of AZN / Pacific Islander teens?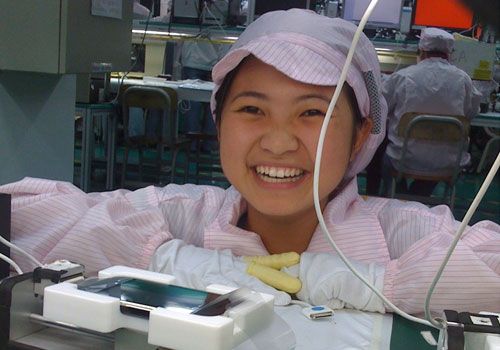 "Work will set yall free."
By Carles on 26 Feb 2010
Link:
http://thevillager.com/villager_356/rearguard.html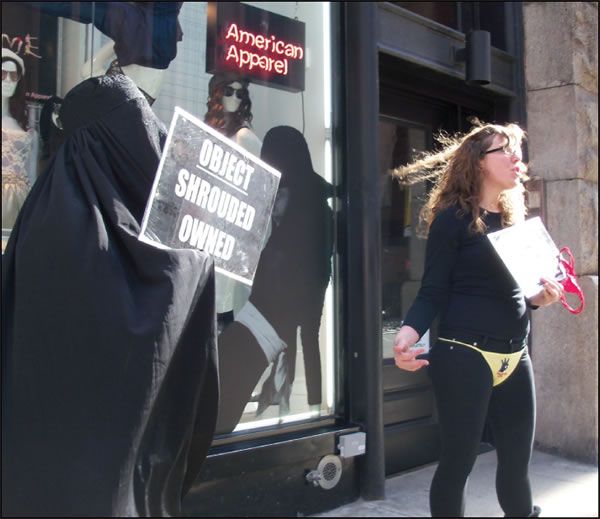 It seems like some broads took offense to American Apparel's sexy ads + their Best Butt competition. I am not sure if they actually believe in women's rights, or if they are 'pissed' that they don't have a sweet, tight alternative body. Maybe they are angry about women's place in society, since they have to cook, clean, and be sexy. Seems like a 'stress-free' job, honestly.
Shouting that "women's bodies are a battleground," a group of communist feminists took their fight to the American Apparel store in Noho last Saturday.

They blasted the chain clothing store's Search for the Best Bottom in the World contest, calling it humiliating and objectifying to women.

"We need total revolution!" they chanted in front of the store, at Broadway near Washington Place. "Women as breeders — no more!" they shouted. "Women as sex toys — no more! Women degraded — no more!"
The story describes some sort of 'disagreement' since the 'protesters' went into the store to make a scene, then were ejected. Apparently the protesters were trying to 'cause a scene' to promote some event.
Do yall think protesting is alt? Should they protest something more substantial, like 'Haiti' or something?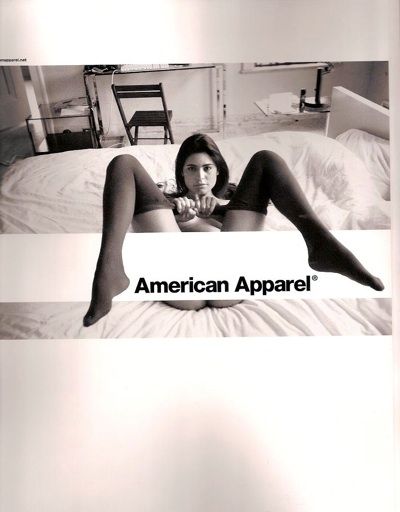 Are Am Appy ads sexy and successful?
Is Am Appy still a relevant alt brand, or is it a 'suburban strip mall' brand now?
Do yall know any 1 who has ever protested something that meant something 2 them [via the Iran election]?
Seems like it had a good resolution:
Afterward, the American Apparel employee who had most actively disrupted the demonstrators pretended he hadn't been involved.
"I don't know what's going on," he said.
Proud of Am Appy for 'standing up to these a-holes.'
Whose side are yall on: feminism or American Apparel?
Would yall rather be friends with/have sex with an ugly person or a sexually attracitve person?
Should we impeach Obama if he doesn't shut down Am Appy?
By Carles on 31 Jan 2010
AOL is trying its most ambitious super-content project yet with freelance content site Seed.com: offering 2,000 $50 assignments on SXSW bands for its music site Spinner.com. New Seed programming director Saul Hansell sees it as the "perfect chance" to showcase reporting and journalism along with what Seed can do for sites within AOL (NYSE: AOL). The basics: Spinner and Seed are recruiting U.S. "reporters" to interview all 2,000 bands for a Q&A and bio in advance of the March Festival.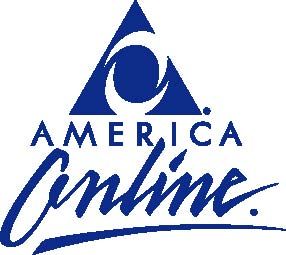 Wonder if 'outsourcing'/'slave driving' is the future of the music blogosphere?
Wonder if my parents will cancel their AOL account.
Wonder if SXSW is MNSTRM....
Wonder if I should cover 1000 bands to make some mad bank.
Alternative Event, Company
SXSW (South By Southwest) is a relevant music, technology and film conference/festival that takes place in Austin, TX.
Read more>>>>
By Carles on 31 Jan 2010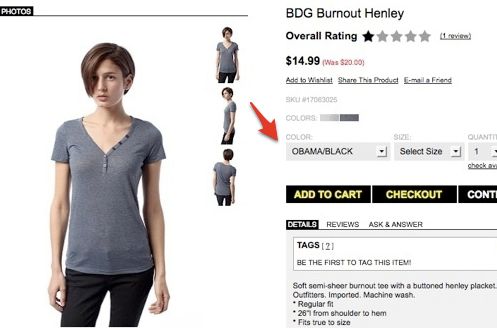 Wonder if they are trying 2 capitalize on 'Obama-mania', or are they just trying to appeal to emerging blipster/black-ish markets?
By Carles on 31 Jan 2010

A viral meme blog dedicated to American Apparel briefs.
Do u think this will go viral in the __________ community?