Zooey Deschanel shows off sideboob on the cover of some magazine, looks BANGIN!
By Carles on 09 Apr 2012

Zooey Deschanel is the favorite mainstream star who every1 still likes to pretend is 'indie.' While many indie blogs have turned their back on 'covering' Lana Del Rey memes for the sake of 'authenticity', every1 continues to pretend that Zooey Deschanel is a pure indie celeb. Anyways, she is on the cover of some magazine called Marie Claire. I'm sure it's the same as every other women's magazine that just encourages girls to get 'whore-d up' and not be afraid to 'S some D' to 'make their way to the top'. I'm pretty sure that's what ever women's magazine is about, while they celebrate some pretty ass girl who their fat readers will never be as hot as.
ZoZo! <3in the sideboob, bb! She's looking skinnie, sorta reminiscent of her crazy coke eyes on Letterman weight. I hope she is okay. #pray4ZoZo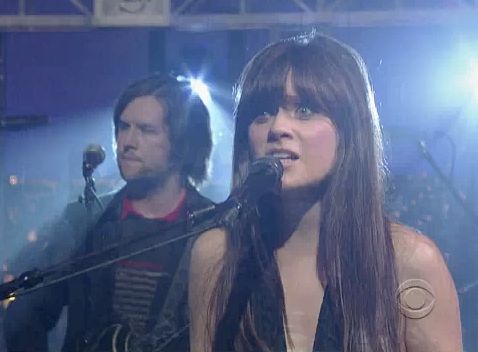 Also, ZoZo claims that she 'is not dating', but she is probably just saying that to not hurt Ben Gibbard's feelings. I'm sure he is still taking it hard. #pray4ben
It's been three months since Zooey Deschanel announced her plans to divorce Death Cab for Cutie frontman Ben Gibbard, and she's not itching to jump back in the dating game just yet.
The "500 Days of Summer" star tells the May issue of Marie Claire, "Honestly, I'm just going through a divorce, so I don't really think that's something I want to get into now. I don't have time to date. I literally - don't-have-time."

As for having kids, she's not rushing that either.

"That's never been my focus," Deshanel, 32, said. "My sister [Emily] was always very motherly, babysitting and stuff. I like kids, and I like being around kids - but it was never an ambition, something, like, I need ... I like working. That's what I like doing. I like to work."
I guess ZoZo is playing all her cards right. Dump the boring husband. Go 'mainstream' with a FOX comedy, continue to become more famous, and not have to share hew new revenue stream with the husband while soaking up the perks of being a 'hottie mainstream it girl.'
Kristen Dunst who? #teamZoZo!
Nat Portman who? #TeamZoZo!
Does ZoZo look good, bb?


R u living 4 her?
Does her body look more BANGIN than evr?
Do u think she is 'dating' ppl?
R u happie 4 her newfound happiness?
Alternative Celebrity, Actor
Zooey Deschanel is an actress turned indie songstress in the mediocre buzzband She & Him.
Read more>>>>