Sufjan Stevens releases another terrible new MP3, continues to let fans+blogosphere down
By Carles on 09 Sep 2010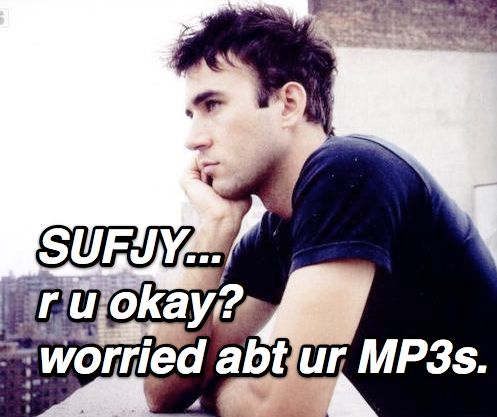 Sufjan Stevens has some new album coming out called "The Age of Adz." A lot of people were 'mad jacked' about it, thinking it would sound like his best folkwave songs. Then he announced that it would be an 'electronic' album. Then he released a song that was terrible, and tons of blogs compared it to Owl City [link]. Now he released another MP3 that seems like a 'big letdown.'
What do u think of this MP3?
[MP3]
Sufjan Stevens Too Much
Does this sound like some1 is taking an electronic poop?
Would this song sound better if it was just a bro on a banjo, plus some little girl voices singing whimsically?
Soon, even the most agreeable, forgiving blogs will 'turn' on Sufjan in order to appease their commenters/fan bases. It seems like the entire blogosphere will come to the consensus
With every new MP3
the blogosphere gets more concerned
Worried that Sufjy is 'effed'
Worried his albums won't sell
Worried p4k will 'pan' his ass
Worried that Sufjan's days as a warm memory from the heart of the indie era
are way 'over'
Does this song sound 'effing terrible'?
Does he need to quit it with the weirdo electro crap?
R u worried about Sufjan's career?
Do u think he should write more Xtian Spiritual Folk anthems about how life in the Midwest is so simple + faith-based?
Has Sufjan Stevens 'killed' his own brand?
Should Sufjy's label force Sufjy to sign a banjo/folkwave clause that only allows him to stick to his success formula, minimizing electro experimentation on their dime?
Buzzband, Alternative Celebrity
Sufjan Stevens used to write meaningful folk-sounding anthems, but then made an electro album.
Read more>>>>