Michael Jackson will release new album with new songs even tho he is dead/burning in hell
By Carles on 02 Aug 2010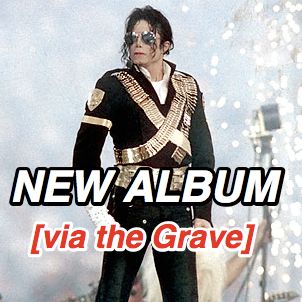 Many pop culture historians are still debating the age old question: "Is Michael Jackson in heaven, or is he burning in hell?" Putting that question aside along with your moral/racial outlook on life, there is some new album news. Even though he is dead, Michael Jackson is releasing a new album. I remember when Tupac did this, and it meant he is 'still alive' since his music had a bunch of references to 'shit that happened after he died. Not sure if 'conspiracy theorists' will emerge for MJ, since I think people are pretty happy that he died, since no1 is allowed to make 'child predator' jokes n e more and his brand is preserved.
Are the songs gonna be new or just remixes of old songs?
An all-new Michael Jackson collection featuring 10 unreleased songs will be released this November, a rep for the Jackson estate exclusively tells Rolling Stone. At the time of his death Jackson reportedly left hard drives filled with unheard music, much of it recorded during the King of Pop's '80s peak.
Not sure if I believe this news. Not sure if they had 'hard drives' in the 1980s.
Will there be any sweet collabs with modern black pop stars?
Jackson's manager Frank DiLeo told RS that he estimates that Jackson's vaults contain more than 100 completed and unreleased songs, including collaborations with Akon, Will.i.am and Ne-Yo. "There are a couple of songs we recorded for the Bad album that we had to cut that are just sensational," DiLeo said.
Is Will.I.Am the modern Michael Jackson? If Michael Jackson was a budding pop star in 2k10 who was trying to be white, would he flatten his hair into a Bieber haircut?
Are there any other plans in motion to exploit MJ's dead body/thriving personal brand?
The hybrid karaoke and dance simulator Michael Jackson: The Video Game is also expected out by the end of 2010.
Worried that this might be a 'huge disaster' [via Dance Dance Revolution/Rock Band/Guitar Hebros]
R u pumped about MJ's new album?
Is he going to 'kill it' and 're-invent pop'?
Will this album just be a crappy collection of rejected songs that blow?
do u h8 when bands release b-side albums just to make more money?
R u worried about the Jackson kids' college funds?
R u sad that MJ is dead, or are u glad he no longer feels pain?
Is Michael Jackson still alive somewhere, but just faked his death to 'get out of debt'?