Pie Chart Meme Graphic: How artists, record labels, & retailers split album sales
By Carles on 12 Jul 2010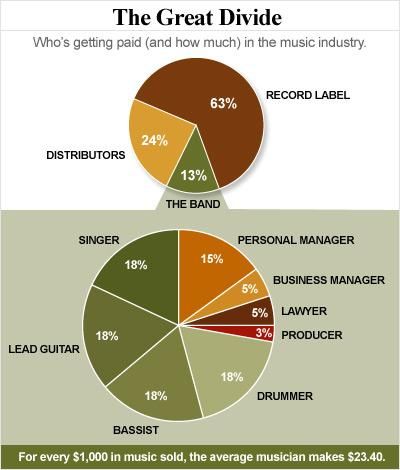 Have always wanted to start a buzzband, but didn't really know if it was 'worth it' cuz of the state of the modern music industry. Feel like there is some sort of 'effed up' system where bands don't even get paid, and even if u go mainstream, tons of entities are 'stealing ur money' cuz they market + distribute ur music. Mad bummed. Thought being a rock star would get u mad rich, but feel like this chart illustrates that bands 'don't make that much money.'
Feel like if I had a band, I wouldn't have a manager, bass player, or lead guitarist. I would avoid signing to a record label, and would try really hard not to use a distributor. Might outsource an 'album sales website' to a web design firm in India. Just gotta maintain all my profits, avoiding 'legal counsel' and even a 'producer.' So weird that bands have to spend money on all of this stuff.
'Solo project' without any sort of band / marketing infrastructure seems ideal. Wonder if chillwave/lofi/being Radiohead is the best possible band business model, since you can minimize 'bullshit costs' and really focus on exploiting your tribe.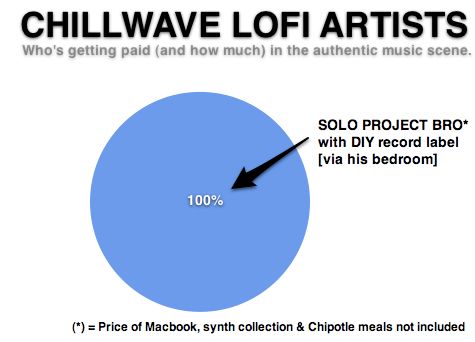 Really just want to keep all of the profits, knowing that my art belongs to me, and no1 can use it without my consent.
H8 how the music industry is so effed up, and it doesn't even allow us to make art any more. Even Larry Gaga is a 'slave' to the horizontally integrated corporate structure.
Do artist 'make money' from album sales?
What type of band would yall be in?
What staff would u have if you had a band?
What are some good ways to 'cut corners' and save ur band budget?
Will I make more money in my life if I have a mediocre 9-5 job for 35 yea, or if I have a buzzband that has 2 albums that sell moderately well?
Does this mean I'm never going to be a rock star / blog star?
Is the music industry 'swirling down the shitter'?
Do musicians deserve Health Insurance?
Do record labels 'steal' tons of money from artists, or are bands 'worthless' without relevant record labels?
Do musicians/bands waste tons of money on goods and services that they don't need?