Best Coast and Vampire Weekend sign record deal with Converse, release blog mp3 content
By Carles on 08 Jul 2010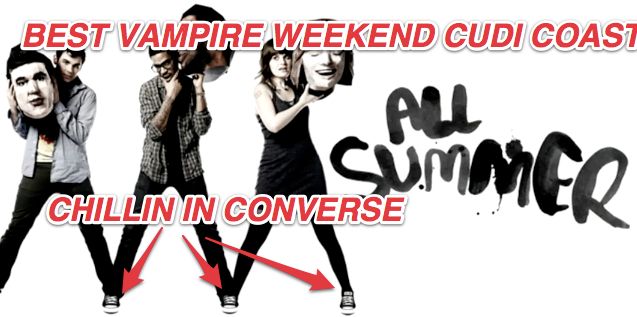 Converse and other brands with huge marketing budgets doing the thing where they hire bloggable artists, then get them to make some MP3, then the brand gets to 'release the MP3' in order to get blog buzz from bloggy woggies. Not sure what to call these things, maybe just 'brand record labels.' I guess the concept is that if I 'like these artists', I will like their brand or something.
Converse threw 'mad bank' at Kid Cudi, Bethany Consentino of Best Coast, and Rostam Batmanglij from Vampire Weekend. Not sure who Kid Cudi is, but I think he is a 'modern blipster rapper.' Best Coast is probably supposed to appeal to indie females and blogbuzzbros. The Vampire Weekend bro is probably supposed to appeal to 'mainstreamers', mindie bros, and the homosexual community.
They threw down a sweet collab, and I guess the goal is to create the perfect 'genre transcending' mp3, one of the great mp3s in the history of the world.
Is this song 'any good' or is it just a buzzband pupu platter of an mp3?
Do we live in an era where fans are 'genuinely excited' about these types of collaborations sponsored by brands?
Do u resent bands for taking 'mad bank' from brands, or are u relieved that they are getting paid?
Which member of this collab deserved 2 get paid the most: Rostam bro or Kid Cooties?
I remember the last edition of this Converse gimmick with Julian Casablancas, Santogold, and Pharrell. Not sure if they released an 'iconic mp3' or if it was just a good lil ditty to put in a Converse commercial.
It seems like there always has to be 1 white man, 1 black man, and 1 female (race optional) in order to appeal to a wide set of demographics/get covered on a multitude of blogs.
Did this mp3 'kill it'?
Should Converse try to create a 'good mp3' instead of just doing pupu platters?
Does Converse need to advertise, or will people always just buy their shoes?
Do fans take these types of brand-released MP3s seriously?
Do u think Best Coast was difficult 2 work with because she was so blazed?
Should Vampire Weekend hire Best Coast to join their band for their next album to sell 2x as many records to female demographics?
Did Ezra Koenig 'demand 2 much money' to be a part of this collab?
R u sooo tired of brand record labels [via Mountain Dew, Levi's, etc]?
Do marketers need to come up with a 'new gimmick' 2 get us excited?
Are blogs 'slaves' to certain artists, required 2 blog about them no matter what?
Would Pitchfork 'best new music' this shit, or would they just make it a 'passing blog bit'?
Buzzband
Best Coast is a fuzzy buzzy band that sings abt dank, California, boys, and kitty cats
Read more>>>>