Solange Knowles discovers cool new blog called HIPSTER RUNOFF, tweets abt it
By Carles on 13 May 2010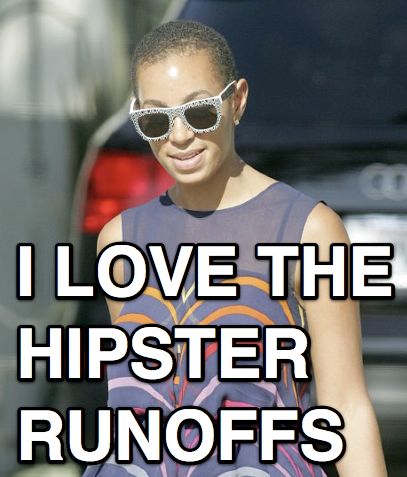 After several posts questioning the indie credibility of Solange Knowles [link 1] [link 2], and other posts documenting Jay-Z + Beyonce Knowles attending coachella/other indie concerts [link 1] [link 2], Solange Knowles has found out about the popular mainstream alt indie mp3 music culture blog HIPSTER RUNOFF. She has 'come under intense scrutiny' by many indie web journalists, claiming that she is 'faking' her affinity towards indie artists just to exploit a niche market that wants mainstream approval.
Solange recently tweeted about how she found a new bloggyspot called hipster runoff, and it is 'mad legit' / full of 'lols.' She claims that Carles is one of the most important music journalists of the modern indie alt era, and possibly shared the link with Beyonce [via iPhone Messenger].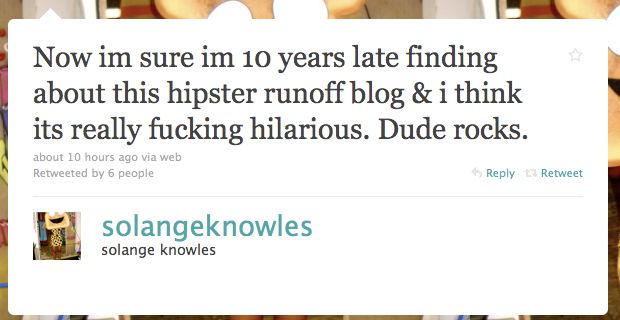 Beyonce and Solange shared many lols abt the blog, then reflected on hipster culture.
In addition, popular post-'it girl' Peaches Geldof was like 'u've never heard of the hipster runsoff.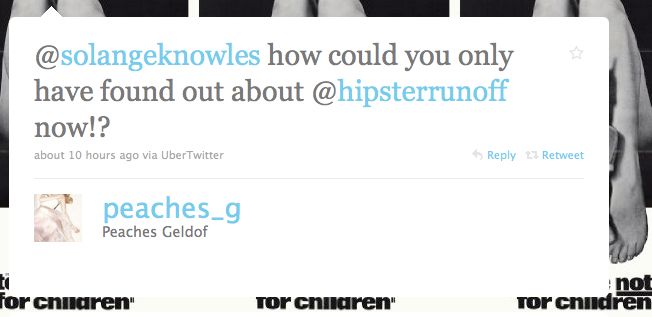 (really not sure who this girl is, but I heard she is 'big in Britain')
Then Solange was all like 'hells naw', and used the term 'blipster' (tm), which was invented by Carles.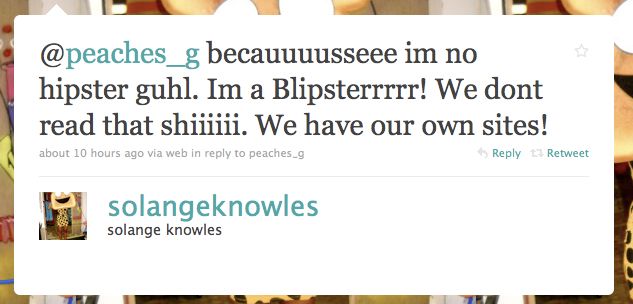 Do blipsters have their own sites, or do they still just hang out on myspace [via minorities]?
Wonder if this means that HIPSTER RUNOFF has 'crossed over'?
Is Carles 'in bed' with alternative celebrities / Solange Knowles?
Will HRO 'be compromised' in this new era of 'fame' + 'critical acclaim' from alt celebs?
Is the blogosphere just the process of websites 'cozying up' to artists for exclusives?
Should blogs be 'bros' with the content that they cover?
Once a blog is 'bros' with an artist, are they allowed to 'pan' them any more, or has this sort of guilt enabled many bands to have a career that lasted longer than it should have?
Which artists are 'in bed' with which blogs?
Do artists get higher scores from Pitchfork if they 'bro down' with the staff, and give them solid content?
Does Solange Knowles have 'more indie cred' because she is into the H-Ro, or is she 'effing mainstream' because HRO has 'gone down the shitter' over the past year?
Alternative Celebrity, DJ
Solange Knowles is Beyonce's little sister. She is trying 2 appeal to alt audiences.
Read more>>>>