Slutty Blog House autotune rap girl group the Millionaires has new slutty song/video
By Carles on 06 May 2010
After the success of Lady Gaga, then the success of Ke$ha's song about partying + being a slut, a bunch of acts from the blog house / shitty myspace rap era are trying to 'come back' and release songs that might catch on with mainstream markets. Kinda like how Uffie is 'freaking out' since she made crappy rap songs about being a slut more than 2 years go. Must feel bad when a 'window of opportunity' passes u by, or you didn't have the right marketing forces to turn you into a 'legitimate' music sensation.
From what I understand, the Millionares are a group from California who 'started a silly myspace profile as a joke', then 'caught on' because they sang songs about boys, getting drunk, and being a slut. These themes are apparently important 2 young females these days. Their newest song/video 'Stay the Night' talks about how they will fuck a bro if he decides to sleep over, and the video showcases their California scene personal brands. Is this what every alt girl in California looks like?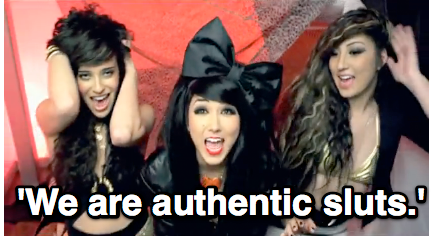 Do u know what the deal with these girls is?
Are they just 'california sluts'/Mexi alts?
Is this band really big in California?
what's the difference between 'scene' and 'hipster'?
Are minority tweens who go to raves into this kind of music?
Is this the female version of Brokencyde?
Do u think this will 'cross over' and sell as many albums as Ke$ha / Vampire Weekend / MGMT?