Solange Knowles kinda looks like Beyonce Knowles
By Carles on 22 Apr 2010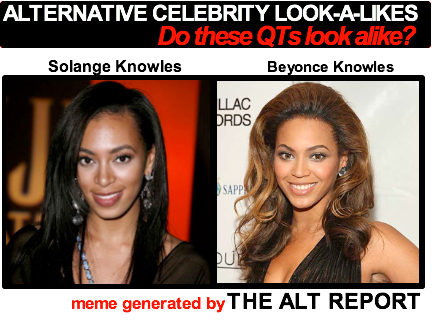 Have u ever noticed how alt hipster blipster songstress Solange Knowles looks a lot like popular mainstream pop hit singer Beyonce Knowles?
Do u know if they are related?
do u know which 1 has a better voice that can be utilized in an indie band?
Which 1 is more authentic?
Alternative Celebrity Look Alikes compares the personal brands of alternative celebrities with other famous and microfamous humans. This ALT REPORT gimmick was inspired by the mainstream version of this meme at totallylookslike.com. Please submit your alternative celebrity look alikes at the ALT REPORT TIP LINE.