NYMag does profile piece on Solange Knowles, tries to make her sound like a 'real indie artist'
By Carles on 08 Apr 2010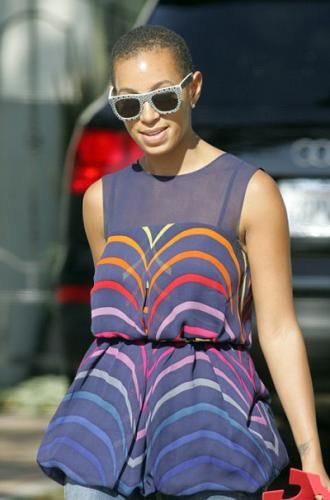 Solange Knowles is the little sister of Beyonce Knowles who is trying to 'make it' as an indie artist. She is unlikely to have a credible career in the same genre/path as her sister, so she has had to 'go alt' to carve out an authentic path that she probably finds fulfilling / allows her to create her own identity.
NYMag did some sort of 'puff piece' / 'profile piece' about her existence / career / evolution from failed mainstream to indie schmoozing artist.
In February, Solange performed live with Dirty Projectors for the first time, at an Ace Hotel party populated by all manner of cool people (Spike Jonze, Jason Schwartzman, Terry Richardson, Donald Glover, Michael Stipe … ). They did Solange's version of "Stillness Is the Move," with Dave Longstreth head-bopping while playing the "Bumpy's Lament" riff, then segued into Groove Theory's 1995 hit "Tell Me" (Solange's pick). She had only practiced with the band once, a few hours earlier in her hotel suite, and says she stumbled over her cue: "I was supposed to come out way later, but I couldn't hear shit. It was awkward. I just started dancing." The crowd certainly couldn't tell, roaring their approval for the surprise guest spot. (Justin Theroux seemed to be particularly into it.) Afterward, Solange D.J.'d the rest of the event, then continued the party upstairs in her room along with Dirty Projectors.
Does this music journalism make u feel like 'u were there' witnessing this special event?
Will Solange 'make it' as an indie artist?
Will Solange become a high level alternative celebrity, or is she going to become the African American female version of Jared Leto?
Whatever happened 2 the Dirty Projectors?
Solange also tried to explain what her new album will sound like by declaring that white indie artists 'stole' music from black people:
"You have Vampire Weekend who have more African references musically than most African-American artists," Solange says, by way of explanation. "As soon as I heard the Dirty Projectors song, it sounded like an R&B song. That happens when I listen to Of Montreal — I can hear so much funk shit that I grew up listening to … There's so many different musical references in everything now that it just makes sense to take advantage of this moment." She adds, laughing, "The white kids aren't going to jack our style anymore! We're taking it back!"
Do yall miss classic music journalism that tries 2 brand artists as being 'cool', 'up-and-coming', or 'buzzworthy'?
Is Solange going to 'make it' and get a 7.0-9.0 on pitchfork?
Is Solange Knowles the next Zooey Deschanel?
Is indie music born from African American music?
Did the human race really start in Africa?
Alternative Celebrity, DJ
Solange Knowles is Beyonce's little sister. She is trying 2 appeal to alt audiences.
Read more>>>>
Buzzband
Vampire Weekend is a popular indie buzzband that is kinda mainstream and ppl always say 'they're s00 preppy.'
Read more>>>>