Blogspot's #1 Music Blog Gorilla Vs. Bear quoted as 'worried' abt being deleted.
By Carles on 11 Feb 2010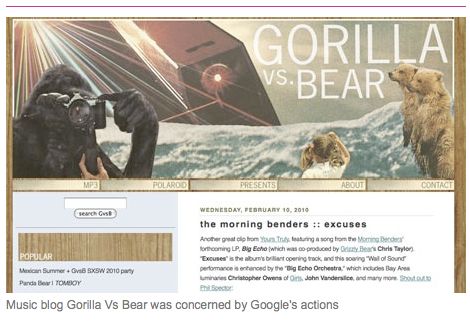 The mainstream news source 'The Guardian', which may or may not be a respected newspaper and content source from the United Kingdom has picked up on the previous Alt Report headline "Google is Deleting shitty Mp3 Blogs." I am not sure if this event is a 'non-story' or if
It seems like they are making it sound 'serious crisis/injustice', like the deleted blogs 'actually mattered' to more than 1000 daily visitors:
In what critics are calling "musicblogocide 2010", Google has deleted at least six popular music blogs that it claims violated copyright law. These sites, hosted by Google's Blogger and Blogspot services, received notices only after their sites – and years of archives – were wiped from the internet.
After performing twitter research, we ascertain that the term '#musicblogocide2010' was created as tons of mp3 bloggers interacted on twitter, creating a uniform hashtag about their 'crisis', similar to the '#haiti' hashtag in their eyes.
In order to make the story seem more important, they proposed the hypothetical scenario that 'mp3 blogs that semi-mattered' due to size + reputation would be deleted:
The two largest Blogspot-hosted music blogs, Gorilla vs Bear and My Old Kentucky Home, show no sign of being affected, although they will still find these developments alarming. "I don't post anything that's not approved, and obviously nothing on major labels," said Gorilla vs Bear's Chris Cantalini. "But apparently that doesn't matter in some of these cases."
It seems like Gorilla Vs Bear will soon 'go down the shitter.' Google may or may not 'black list' his blog since he 'spoke up against' Big Brother [via Google].
In addition the popular website and mega mp3 blog Pitchfork picked up on this story, possibly trying to brand themselves as 'being one with the long tail mp3 blogging community.' This was a good story for them to cover to try to re-brand their site as being 'connected' to the spirt of sharing mp3s for the sake of sharing good music. They even linked to the 5-10 deleted blogs, most likely giving them record traffic. These mp3 bloggers must be 'happy' to feel important/'getting coverage and traffic referrals', but also sad that 'no1 will care' in 2-5 days. Most likely, they will gain an additional daily 5-10 visitors from this whole 'crisis.'
Will GvB die?
Do u wish Google could delete every blog in the world?
Is Google deleting blogs 'bad for their brand'?
Do we know 'the whole story' or are these mp3 bloggers lying about the copyrighted content they posted?
Will blogger mp3 blogs move to wordpress/tumblr/posterous/twitter?
Do yall wish we could go back to the era before mp3 blogs before this was a problem?
Is Pitchfork 'a part of the mp3 blogging community', or have they transcended the long tail?
If you had an mp3 blog that was lost in the long tail, would u really 'care' that ur blog was deleted, or would u accept ur webpresence as being 'as insignificant as a facebook profile'?
Blog
Gorilla Vs. Bear is an influential MP3 blog that blogs abt lofi, fuzzy buzzy, chillwave, and authentic African American music.
Read more>>>>