What is the future of chillwave? Have new chillwave bands emerged?
By Carles on 19 Sep 2010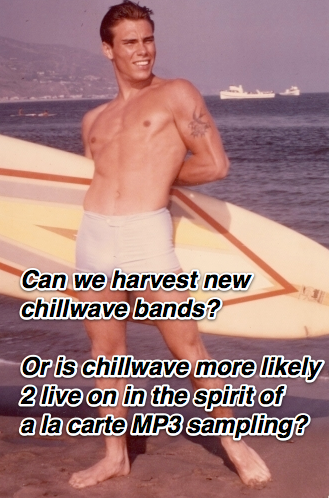 Sometimes I get worried about the emerging/emerged genre of 'chillwave.' Tons of pressure on me because I 'invented it.' Maybe even more pressure on me as a 'tastemaker' than on the bands that actually have to use their computers to make new MP3s. Feel like I have a 'social responsibility' to chillwave, to 'stay on the metaphorical surfboard' until the chillwave thaws, and takes me under [via Caught in the undertow just caught in the undertow]. Maybe I should do more to 'keep it alive', and box more artists into the genre. Maybe it would be good for their careers. Maybe it will lead to the chillwave bubble 'bursting' hard.
Here are some mp3s that 'show promise' and/or represent the challenges of importing new bands into the chillwave genre.
*** Chillwave MP3 #1 ***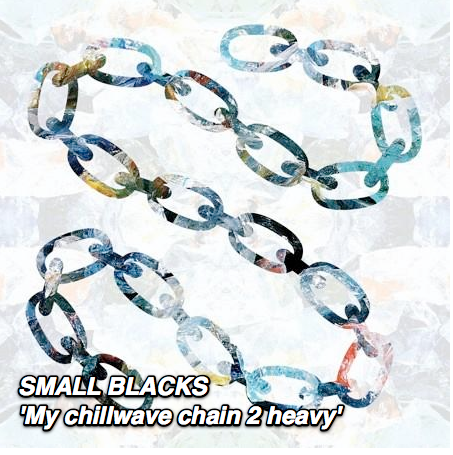 [MP3]
Small Black Photojournalist
Small Black has been riding chillwaves for a while, getting 'mad coverage' from Pitchforks, but I was 'resentful/'cautious' abt covering them because the three best chillwave artists had already been established (Neon Indian, Washed Out, Toro Y Moi). You just don't want to expand too fast, then weaken the genre by letting in 'any old Brooklyn Buzzband', then the chillwave bubble bursts, and ur stuck covering bands that are as irrelevant as Interpol, Blonde Redhead, and Broken Social Scenes [via the death of indie / buzzband euthanasia].
Since Memory Tapes 'sucks' / only has 1 or 2 'solid' MP3s, it seems like Small Black is 'prepared' to be relevant as long as they 'deliver' a listenable album, which will 'come out' in October. I am 'rooting for them' because Twin Shadow probably needs some 'competition.' Was skeptical of Small Black but "Photojournalist.MP3" shows promise, and they can probably have a fruitful 3-5 year indie career as long as their album is 'chill study music' or better.
XX BONUS VINTAGE WASHED OUT RMX XX
Small Black Despicable Dogs (Washed Out Remix)
Remember when Small Black was 'blog famous' for being Washed Out's backing band?
Should Washed Out have 'bought them out', or will Washed Out 'survive' playing solo shows/hiring a new band?
Web Presence: http://www.myspace.com/smallblacksounds
*** Chillwave MP3 #2 ***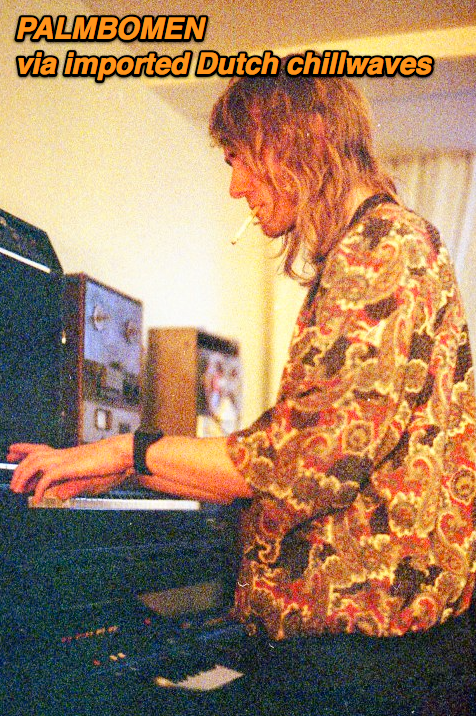 [MP3] [via IGIF]
Palmbonen Moon Children
Not sure how to really feel about this MP3. Palmbomen is apparently from Holland/The Netherlands. I can't tell if it is 'chillwave' or just some Euro bro with tons of vintage synths. Chillwave is 'pretty self aware' so u sorta gotta know that ur making music to fit into some weird electronic, sampled, nostalgic genre that earns u the 'right' to have the 'chillwave' label slapped on u during a writeup. Palmbomen means 'palm trees' in some foreign language, so maybe he knows what is up, but he'd probably have a better chance of 'making it' if he was some random place in Brooklyn / South Carolina / Texas / California / New Mexico / Colorado.
Feel like if u were told that this was a Neon Indian MP3, it would be 'easier to buy in2' / it would melt some blog servers or something. Don't think the rest of his stuff is 'that good', so u can sorta just file this mp3 away as a 'blog hit wonder' [via chill European bro]
Web Presence: http://www.myspace.com/palmbomen
*** Chillwave/lofi MP3 #3 ***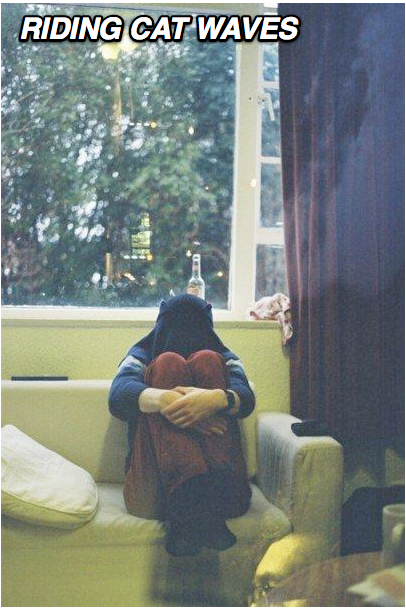 [MP3] [via gvb]
Waskerley Way Cat Alert
This mp3 is apparently by some cat concept band. Not sure if they are chillwave or catwave. This mp3 might be more 'post-Ariel Pink lofi.' That genre really throws me off because I want to say it is 'crappy' but also say it is 'amazing' [via pop sensibilities]. Wonder if this would be a 'song of the year' if it was actually by Ariel Pink.
Do u think 'indie music' is in trouble if you can talk urself into this mp3 being a 'relevant blogworthy mp3'?
Has our 'taste' degenerated in the post-AnCo era of indie music?
Has 'the shit' hit 'the fan'?
Web Presence: http://www.myspace.com/waskerleyway
*** Lofi/vintage MP3 #4 ***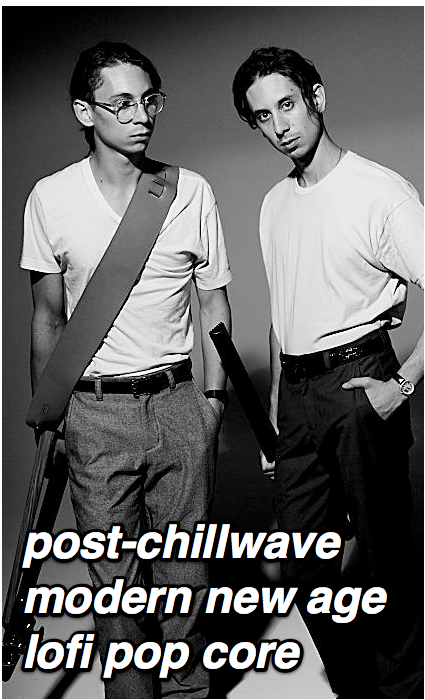 [MP3]
TEEN INC Fountains
'Indie' music has degenerated so much because so many alts have a 'need' to discover new, fresh yet nostalgic sounds. This usually means 'working backwards' and re-importing aesthetics into the indiesphere. Feel like this brand of new age / post-jazz lofi has a 'chance' to emerge if bands can execute. Not sure if these bands can ever monetize very well, but they have an opportunity to get 'tons of coverage' from websites that think they are authentic/represent 'the new sound.'
Sorta feel worried about Ariel Pink's career. Feel like he might already have 'all the fans' he will ever have, so some sort of lofi prodigy might 'overtake him' and brand themselves to 'crossover' instead of just have some 10-15 years as a 'lofi legend' who is portrayed as an 'acid-wave recluse.'
*** Do yall know about any more kewl new indie-wave chillwave post-post bands? ***
What is the future of chillwave?
Will it die? Is it dead?
Will new chillwave bands emerge / join the genre?
Should there be a 'chillwave meeting' where chillwave leaders discuss the future of the genre?
Has 'shitty lofi' ruined the blogosphere [via 'trying 2 hard' 2 sound 'unique']?
Can the Small Black 'make the leap' and do they 'deserve' it?
is catwave more relevant than chillwave?
Is lofi music 'ruining everything'?
IS the conceptual lofi era going to end, and will consumers swing back 2 appreciating mp3s with a high production value?
Are nostalgia wave bands 'cheapening' the indiesphere?
Should we just 'hand over' album of the year to the Arcade Fire? [via mnstrm indie]
Will Small Black 'beat' Best Coast / Wavves on p4k?
Should chillwave 'die' or 'live on' forever in the spirit of new buzzbands?
Should new buzzbands 'try to join' chillwave, or aspire to create a new sound/genre?
Do u believe in buzzband reincarnation?
Can chillwave/ post-chillwave bands write 'sweet albums' or will chillwave morph into the bloghouse experience [via only expecting sweet single mp3s+remixes]?