Children of the Street
By Carles on 22 Dec 2008
I know most of yall don't care about my Sirius playlists, so I will start experimenting with a posting method 2 keep from isolating yall. [via Poem + Playlist]


[Photo by thecobrasnake]
We are the children of the street
The cool air lifts our spirits
It is almost winter again
This means cardigan weather.
When I walked out the door
my parents gave me a look
confusion
shame
resentment
I will channel these into my art
I will take my personal brand to the next level
I will prove that there is a reason that I am the way that I am
This bro is me.
Do not smile at the camera
This ruins our collective brand
Gaze
(in2 the distance)
XXXXXXXXXXXXXXXXXXX /////
XXXXXXXXXXXXXXXXXXX \\\\\\
XXXXXXXXXXXXXXXXXXX |||||||||

HIPSTER RUNOFF RADIO ON SIRIUS XMU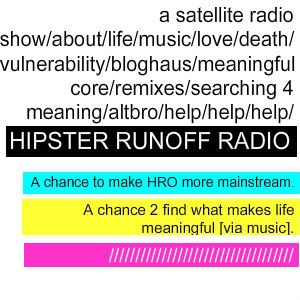 The HIPSTER RUNOFF radio show airs Mondays at noon and again at midnight EST on Sirius XMU. Iff you're an XM subscriber, you can listen to Blog Radio on channel 43, and Sirius subscribers can still find us on channel 26. If u really want 2 hear Carles Show, u can get a 3 day trial membership.
Broken Social Scene - 7/4 (Shoreline)
Junior Senior - Headphone Song [link to vintage post]
Cut Copy - Out There on Ice
Gil Mantera's Party Dream - Elmo's Wish
Digitalism - Pogo (Shinichi Osawa Remix)
Glass Candy - Etheric Device
The Golden Filter - Solid Gold [MP3]
Friendly Fires - I'm Good, I'm Gone (Lykke Li cover)
Klaxons - As Above, So Below (Justice Remix)
Phoenix - Holdin' on Together
Ladyhawke - Back of the Van
Metronomy - A Thing For Me (Breakbot Remix) [MP3]
Starfucker - Florida [[LIVE performances/Portland commentary]
Lali Puna - Faking the Books
The Twelves - I Feel Fine [MP3]
Phoenix - Too Young
The Whitest Boy Alive - Golden Cage (Fred Falke Remix)
LCD Sound System - Someone Great
Josh Rouse - Christmas with Jesus
Sufjan Stevens - Star of Wonder
The Notwist - This Room
The Kings of Convenience - Stay Out of Trouble
Kleerup - Until We Bleed (feat. Lykke Li)
We Have Band - Oh!
Vince Guaraldi Trio - Christmas Time is Here
The Cardinals - My Heart is Broken
Have yall heard n e 'relevant' music lately?
I heard there is no new music in December because people don't want to be left off prematurely published 'Best of 2k8' lists/forgotten about in 'best of 2k9' lists.