Hungry Frenchman of the Day
By Carles on 07 Sep 2008
SoMe Hungry.
MeSo Hungry


Do yall know if this is going to be converted into a public service announcement discouraging people from majoring in art/design/communications? The bad thing about having a unique point of view is that u feel an obligation to learn the tools which will help u express urself. This leads u 2 art school/design school.
As the world evolves, more unique people are born, meaning more people who need to express themselves, meaning more art schools. It sux because we don't have n e 1 to do menial jobs @ McDonalds, or be accountants n e more. I wish there were less artists so that our economy would be g00d again.
[Photo by The Cobrasnake]
Letter from a Self Aware Artist:

crls,




you're doing a great job keeping us up to date on breaking updates in the electro war and koowky azn fashions but what about art schools?




come on carleserslerers, this place is an alt factory. a place where impressionable 18 year olds become subjected to some of the most altyaltmcalts in their major metropolitan city (art schoolers confidence is rooted in both impeccably alt fashion choices and "culturedness" in fine arts and theory). the velocity of going from a mnstrmr to an alt in the freshman year of art school is unparalled. there's not even an entry level alt phase. every day spent wearing boot cut jeans and messy graphic screen printed tee shirts that used to seem cool and unique in yr florida suburb back home is a day spent not making friends at fine art schools. and let me clarify the difference between art schools. schools like saic (chicago), smfa (boston), cooper union (new york) are FINE art schools. fine art schools are tiny. they make really pretentious performances pieces and spend most of their time talking about gender roles. these are the altest art schools. there are secret cliques that i can't even tel you about because they are internet resistant the goretex on a northface jacket. these cliques are so ruthlessly hip you might never even know they exist. regular art schools, like columbia college (chicago), cal arts (san fransisco), pratt (new york), massarts (boston), mica (baltimore) are huge bro'd down schools. they all have like, 20,000 students and they're mainly made up of animation and graphic design dave mathews band white baseball cap bros, anime loving goth sluts and entry, entry level alts. their may be a dozen or so high level alts at these huge schools but they are probably there for "art theory" and only go because "they got a huge scholarship" (while the more alt fine art school in the same city didn't give them one, but they'd never admit to it for fear of losing cred). listen, i could babble on about this forever. art school is really important crlsrlsrs, ok?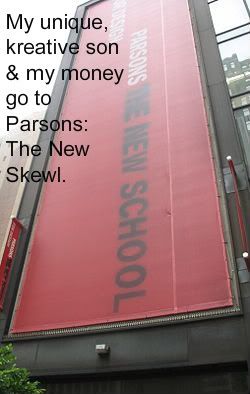 What do yall know about art schools/the people who u know who r in Art School?
What's the best art school in the world?
Should I go there?
Should I study abroad?
If I get in, will I get a chance to learn Photoshop?
Should I move to Manhatty?