I gave Girl Talk a tug job for his new album
By Carles on 20 Jun 2008
I thought it was rlly cool that Radiohead let me pay what I wanted for their hit album 'In Rainbows.' However, I thought it was even cooler that Girl talk let me barter-what-I-wanted in exchange for his new album.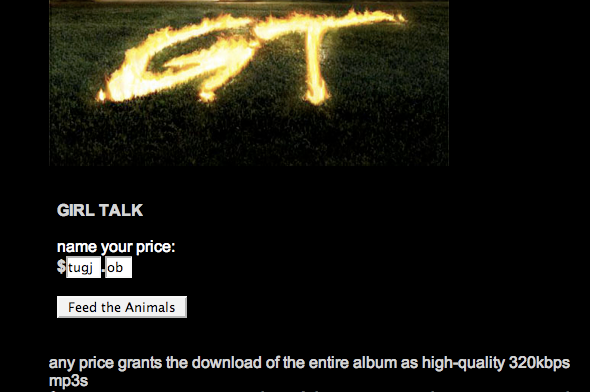 What did u give Girl Talk for his new album?
I feel like more people are likely to be guilted into thinking 'Radiohead deserves my money' moreso than 'Greg Gillis's future children deserve my money.'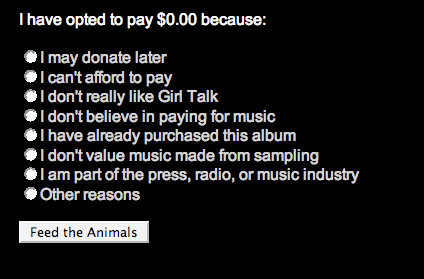 I think they left off a few options from this list, such as:
I am a huge supporter of mainstreamers-gone-alt
I am an alt engineering student
I am looking for music for my alt-bro sausage-fest pre-party
I am making a mix CD for a mainstream girl who likes 'random' stuff
Child Predators r 4 Lovers
Developing....
Formulating an opinion on how I feel about Girl Talk's latest album, and how it fits with the state of the modern world...
Initially, I had told myself that I was not going to like it, but I might have decided to 'give it a fair chance,' but I will probably just use it as a way to distance myself from 'the type of people who kreem themselves abt how awesome Girl Talk is.'
How do u feel about the new Girl Talk album?
Will it take down Lil Wayne's album?
Will it be more socially significant than Coldplay's new album?
Do you hope he gets sent to jail for stealing music from Napster and making them into songs?
DOWNLOAD GT's new Mixtape here
http://74.124.198.47/illegal-art.net/__girl__talk___feed__the__anima.ls___/